When a contact clicks the unsubscribe link in a marketing email or listing alert, they're taken to their email account settings on the consumer website. Here, they have two unsubscribe options:
Saved Searches Email Update: Listing alert emails
Real Estate Information & Newsletters: Marketing/campaign emails, or Market Insider Newsletter.
If a contact unsubscribes from a campaign, they will not be removed from the campaign. Similarly, if they unsubscribe from listing alerts, the alert will not be deleted - both will simply be undeliverable.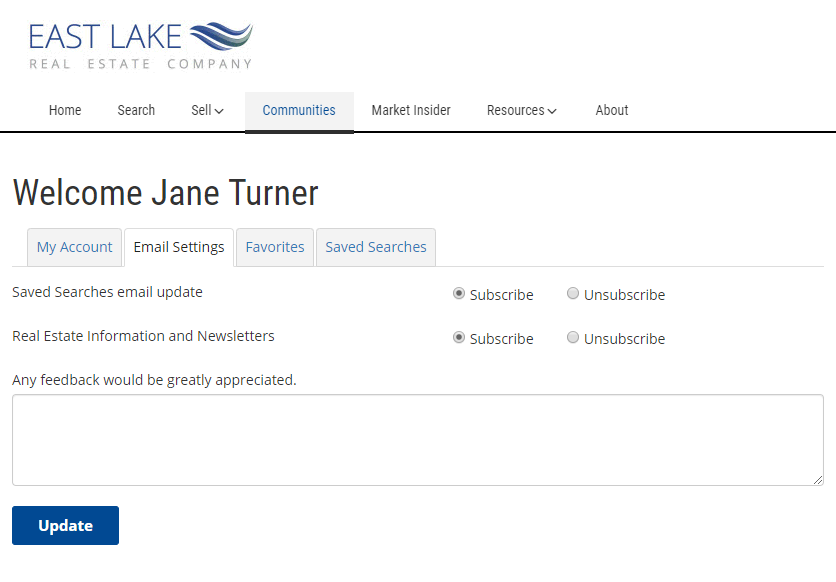 If they enter any comments into the feedback field, it will appear as a contact note.
Many times when a contact unsubscribes, it's because it was either not the right content, or the content was too frequent. We recommend sending them a normal system email to ask why they unsubscribed. Below is an effective email template for contacts that unsubscribe.
If They Unsubscribed
I noticed you unsubscribed from my emails, and I just wanted to ask why?  Was I emailing you too often?  Or was the content not quite right?  Did I miss the mark?   
Either way, I will be sure to stop sending you emails, however if you simply wanted different or less frequent information, please let me know, so I can tailor the content and timing to your needs.   
In the meantime, feel free to visit my website for up-to-date listings and market info in your area.
Thank you very much.
Contacts can only unsubscribe from marketing/campaign emails or listing alerts, so even if they unsubscribe, you are still able to send them a normal email from your system.
How to Resubscribe a Contact
In order for a contact to resubscribe, they must go back to their account settings on the consumer website, and click the subscribe button (you cannot do this for them, they must do it themselves). Below is an email template, along with instructions to get the correct link for them to resubscribe.
Opt-in Email (with instructions for them to re-subscribe)
Thank you for getting back to me.  To opt back in to receive property alerts and market data from me, simply click the link below to change your email settings:  
<INSERT LINK HERE>(just click the buttons next to "subscribe" and then click Update)  
Thanks again!
This link will be your Market Leader website URL, with /mytools/#email-settings after the .com part. For example, if your website URL is 
www.MyWebsite.com
, then you would make the link 
www.MyWebsite.com/mytools/#email-settings
. If the consumer is not logged into your website, it will ask them for their login and password here, so you may want to let them know to look for that email - just in case.