Add Contacts to Your Email
To add contacts to receive your email, click the To button.

Next, you'll see a list of all eligible contacts on the left. You will only see contacts that have valid, deliverable email addresses. There are three options to find and add contacts to your marketing email:
Add an individual contact
Add a contact group
Search for a specific contact
Add an Individual Contact
To add an individual contact, click the Add button next to each contact's name and their name will appear in the contact list on the right.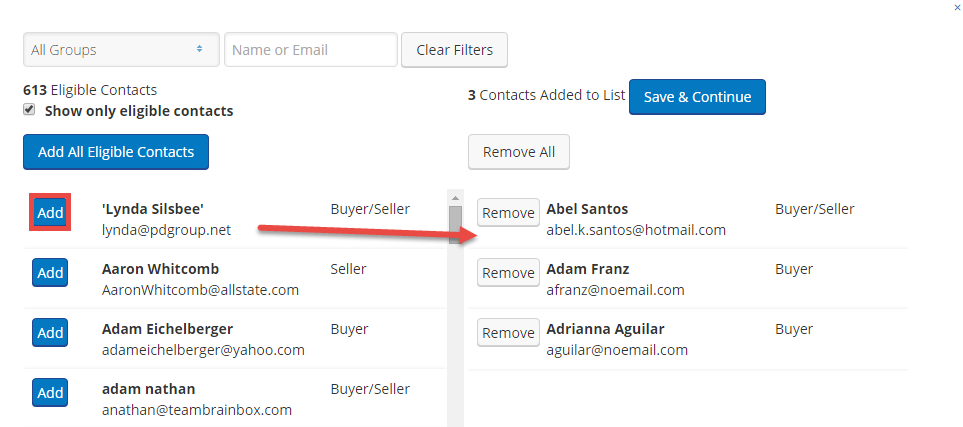 Add a Contact Group
To add a contact group to receive your email, click the All Groups drop down menu.
Check the box next to each group you want to add.

Next, close the groups list by clicking anywhere in the window. The list of eligible contacts will be filtered to show only contacts in the selected group(s) and the total number of eligible contacts will display.
Click Add All Eligible Contacts to add them to your mailing list and they will appear in the contact list on the right.
The system will automatically prevent a contact from being added multiple times. For example, if you add an individual contact, and then add a group that contact is in, they will already have been selected, so will not be added twice.

Search for a Specific Contact
To find a specific contact, start typing the contact's name or email address in the search field. Once you start typing, the list will automatically adjust to match your search.
When you have found your contact, click the Add button next to their name. The contact name will now appear in the list on the right side.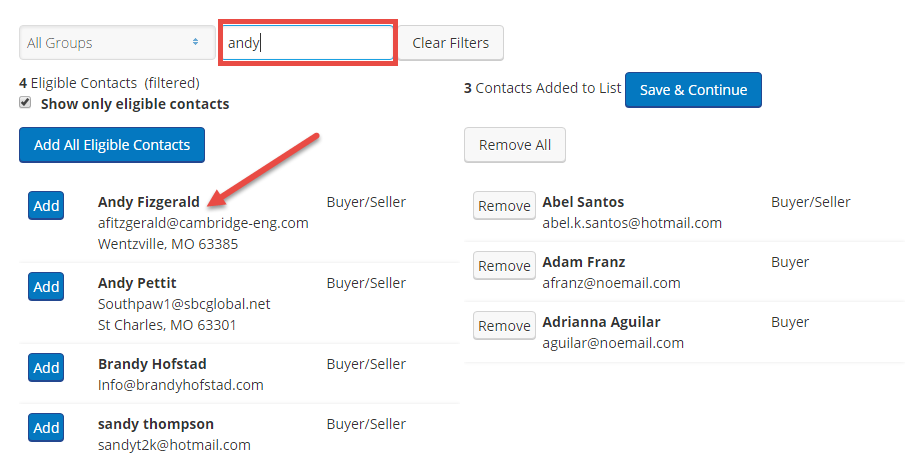 Once you have added the contacts you wish to send your email to, click the Save & Continue button (if you want to remove any contacts from the list, click the Remove button next to their name).

Now you will see your selected contacts listed as recipients in the To line. 
Next, enter a subject line for your email. Make it catchy so your contacts will open and read your email!

Now you can add a personalized message to your email; you can type in your message, or you can select an Email Quick Text template you may have already created and saved.

Email Options
After you have composed your email, you have a few options for sending it:
Send your email to selected contacts
Include Showcase Properties in the footer of your email
Include social media links in your email
Send Your Email
To send your email, click the Send button at the top or bottom (once you click Send, your marketing email will be sent to your contacts).

Include Showcase Properties in Your Email
You have the ability to include up to three of your active listings in the footer of your email.