Your Marketing Center comes with greeting card designs for almost any occasion. Use these cards to keep yourself top-of-mind throughout the year.
Choose a Greeting Card
To find available marketing designs, hover over the Marketing tab and select Design Library from the menu.
In the Search Options box, select Greeting Cards from the Type of Material drop down menu.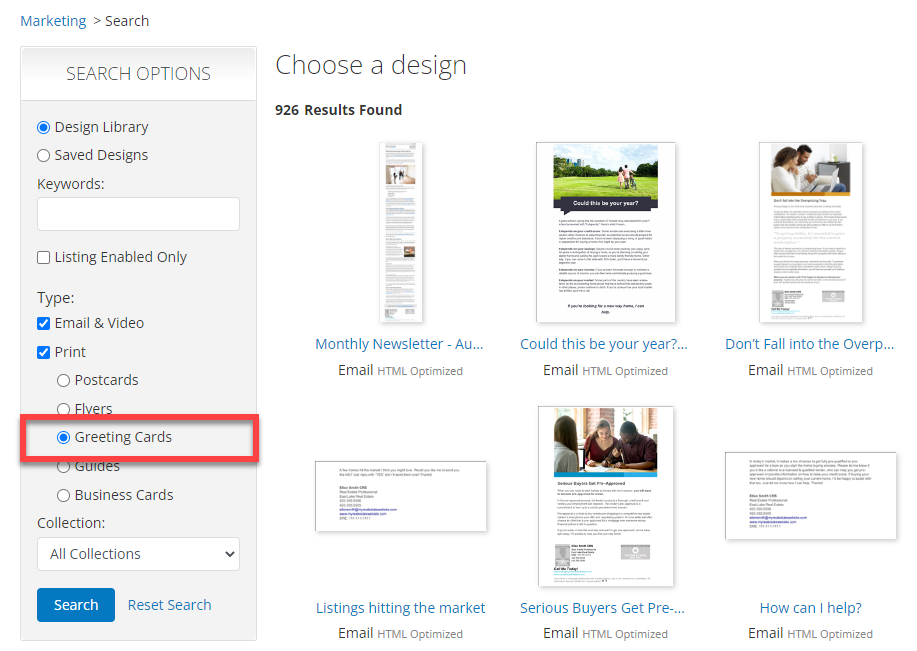 From here, you can narrow your search even more by selecting a Collection, which will automatically filter the available designs by collection. A collection is a group of similarly themed designs.
Or you can search by a Keyword or Title, such as "Christmas", "Thanksgiving", or "New Year", and click Search.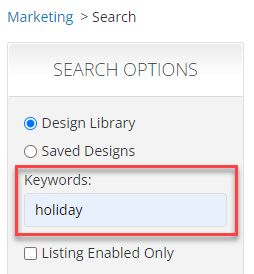 You can also create a totally custom design by selecting the Build Your Own/Upload option from the Collection drop down.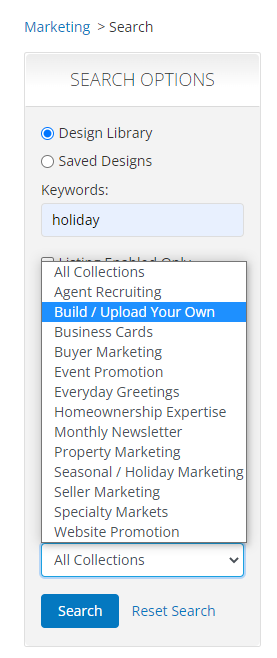 Personalize and Save a Greeting Card
When you find a design you want to work with, click the image for that design and you'll be taken to the detail page for that piece.
Click the Personalize button to customize it and make it your own using the Marketing Design Editor.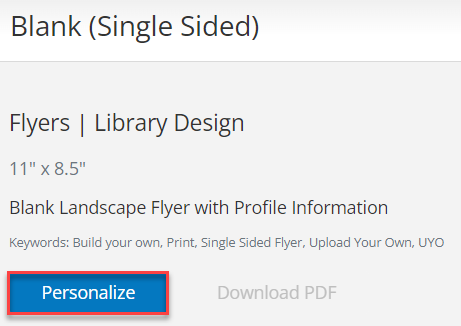 When you have finished personalizing your design, you'll need to save it. From within the Design Editor click the Save button and select Save As.

Name your design something relevant and easy to remember like the address of the home you are promoting, or a description of the piece. Click Save after you've named your design.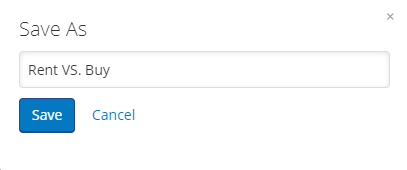 Upon saving, you will see a successful save message, click OK: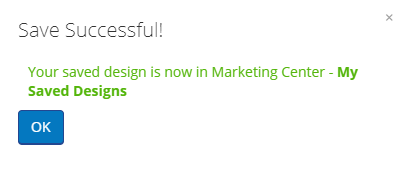 Order Professional Printing
To order professional printing of Greeting Cards to be mailed directly to you, first select your Paper, Finishing, and Quantity options:
Paper: 100# Cover is the only option for greeting cards. Blank white envelopes are included with all greeting card orders.
Finishing: You can leave the cards uncoated or have a special coating applied after printing for an additional fee. Visit the Shopping Cart FAQ page for detailed descriptions of paper types and finishing options.
Quantity: The minimum quantity is 25, but your price per piece will improve with higher quantities (we recommend 100+ for the best value)
When you're finished with your print options, click the Add To Cart button. (Note that some designs require you to personalize them before you can add to cart.)
Pricing, paper, and finishing options vary by material type.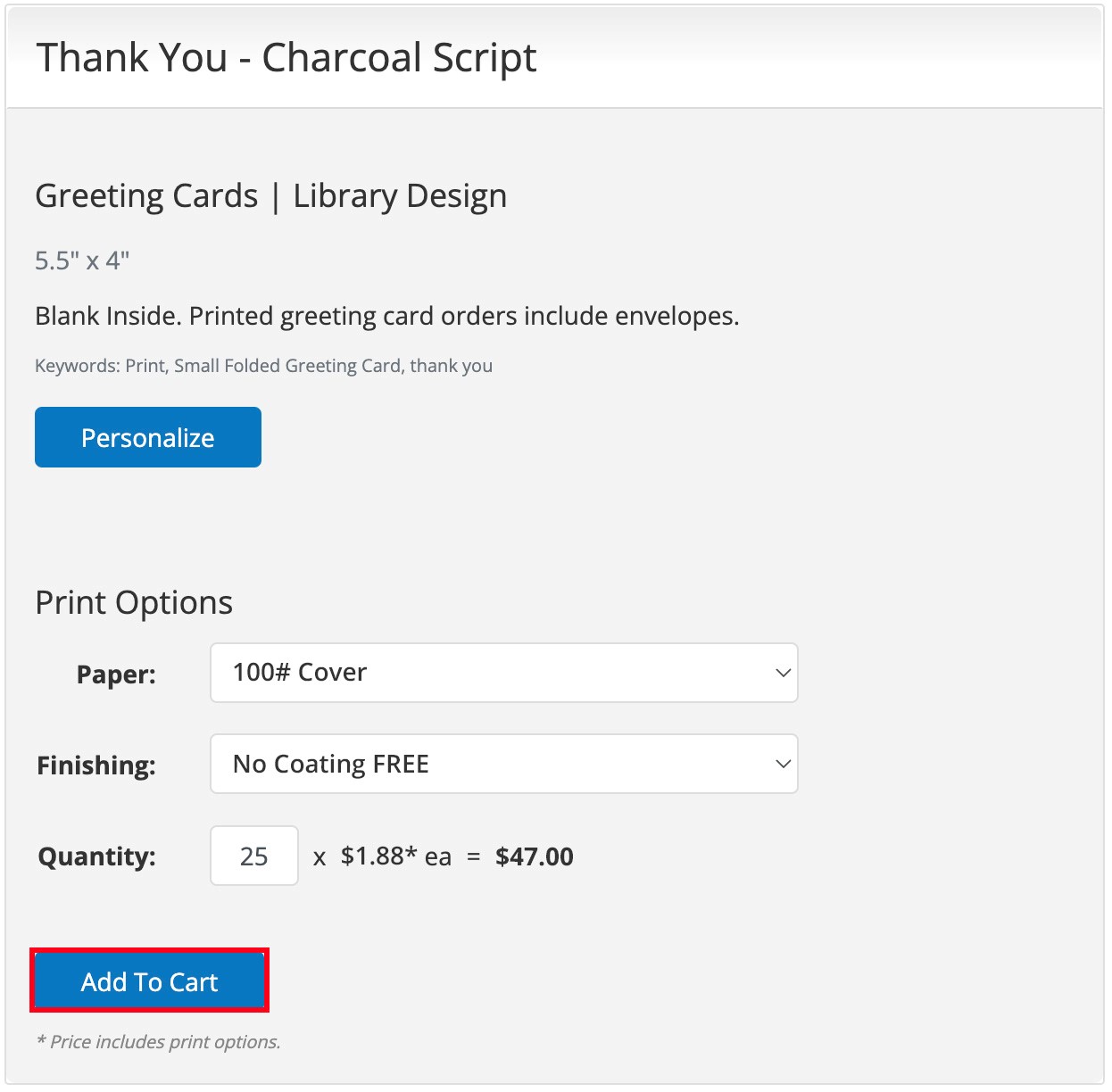 You will be reminded to Preview your piece before continuing.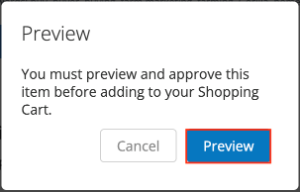 If your design has multiple pages, you'll be able to scroll through the pages in the Preview window by clicking the arrows on either side of the image, or by clicking on one of the navigation circles located just below the image.
After reviewing the piece, click Approve & Continue to continue to the Shopping Cart.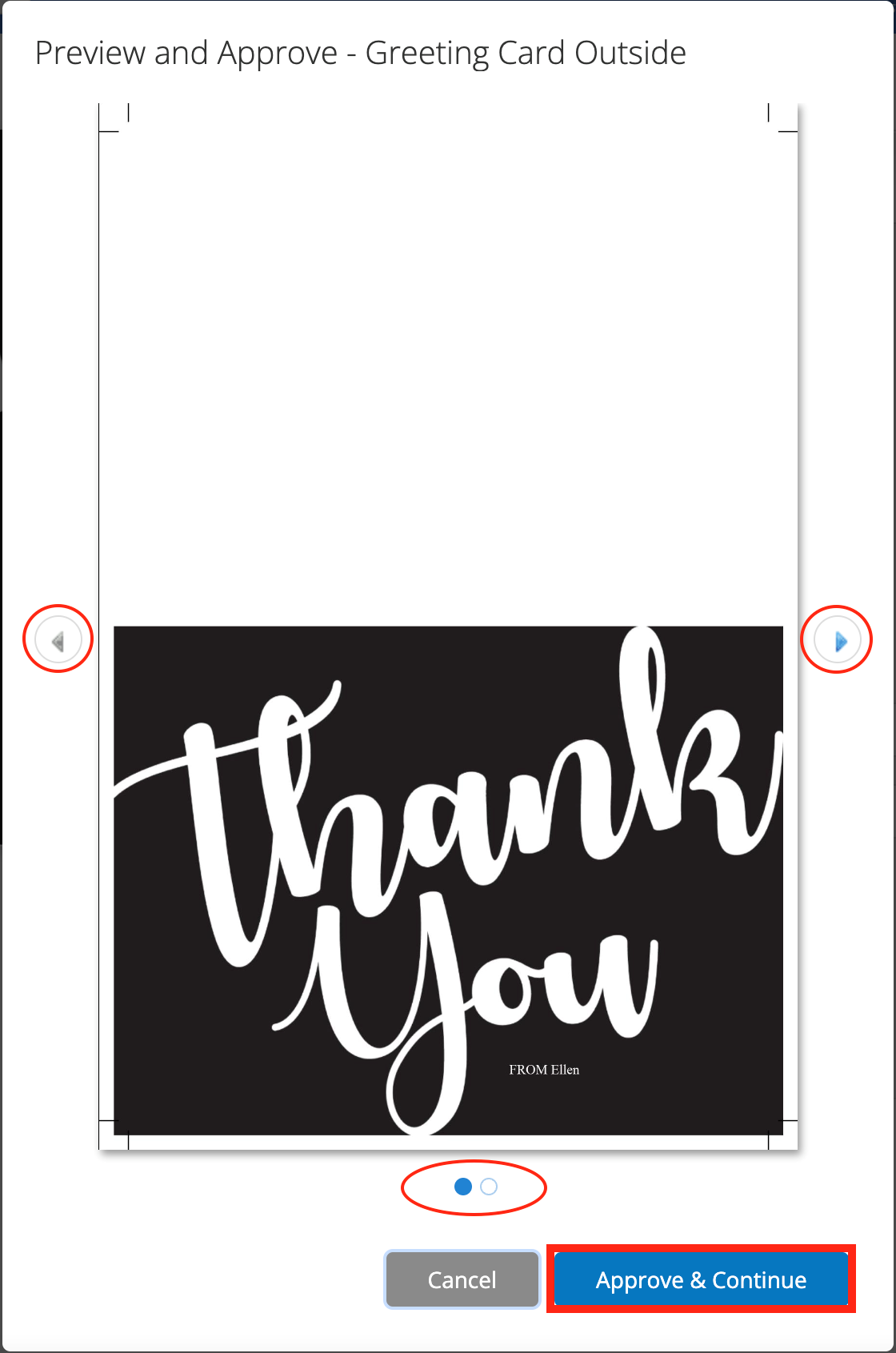 On the Shopping Cart page, you can review and/or edit your paper, finishing, and quantity options.
Click Checkout when finished.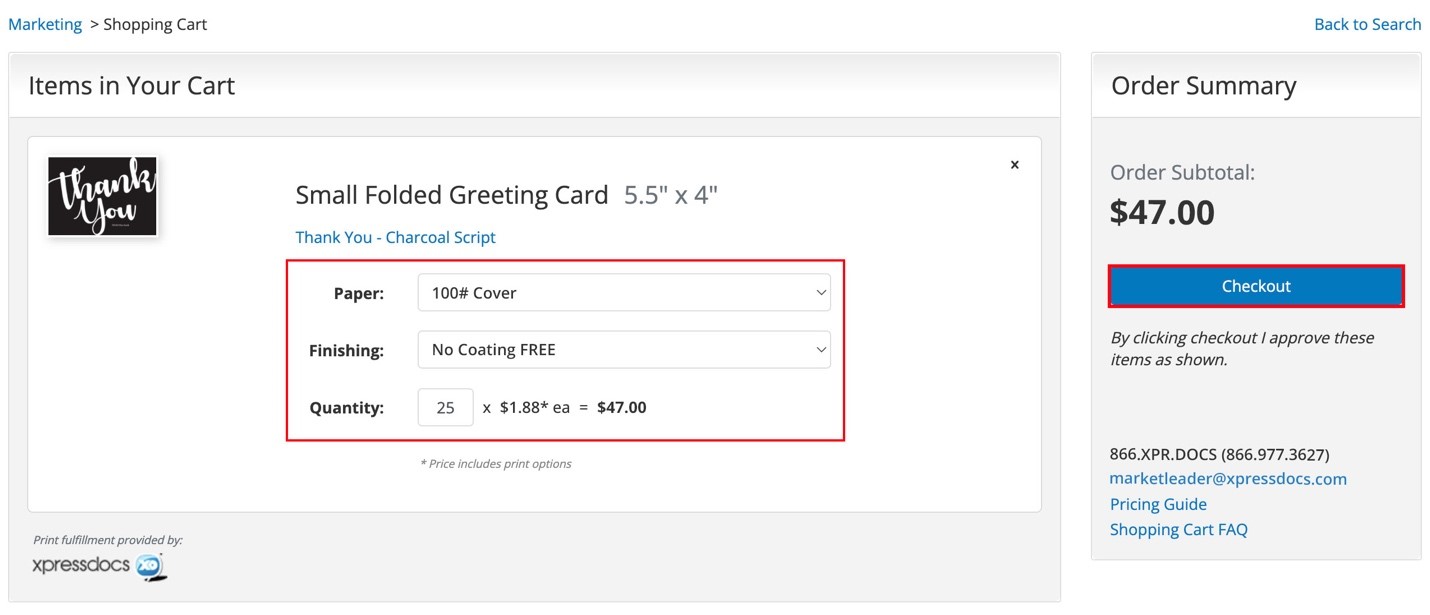 The last step before placing your order is to verify that the billing and shipping addresses are correct.
Verify your order details and quantity. If you want faster shipping, select the drop down that says Ground Shipping (FREE) to see available delivery options. 
When you have confirmed your order, click Place Your Order.
Planning to mail your greeting cards? Once you receive your order, you can address your cards by hand (for a personal touch) or you can save some time by printing address labels directly from the system.