The Site Activity reporting tool provides you tools to analyze traffic on your Pro website. You can see the number of website visitors and registered contacts you received in the last 12 months, as well as the source data for your website visitors.
To see your Site Activity, click on the View All Site Activity link on your main dashboard.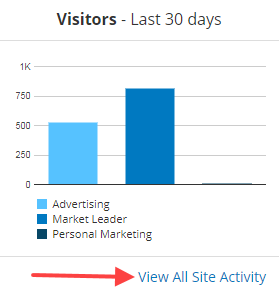 Here you'll see three sections with valuable details about your website visitors: New Contact Count, Visitor & Contact Sources, and Search Links.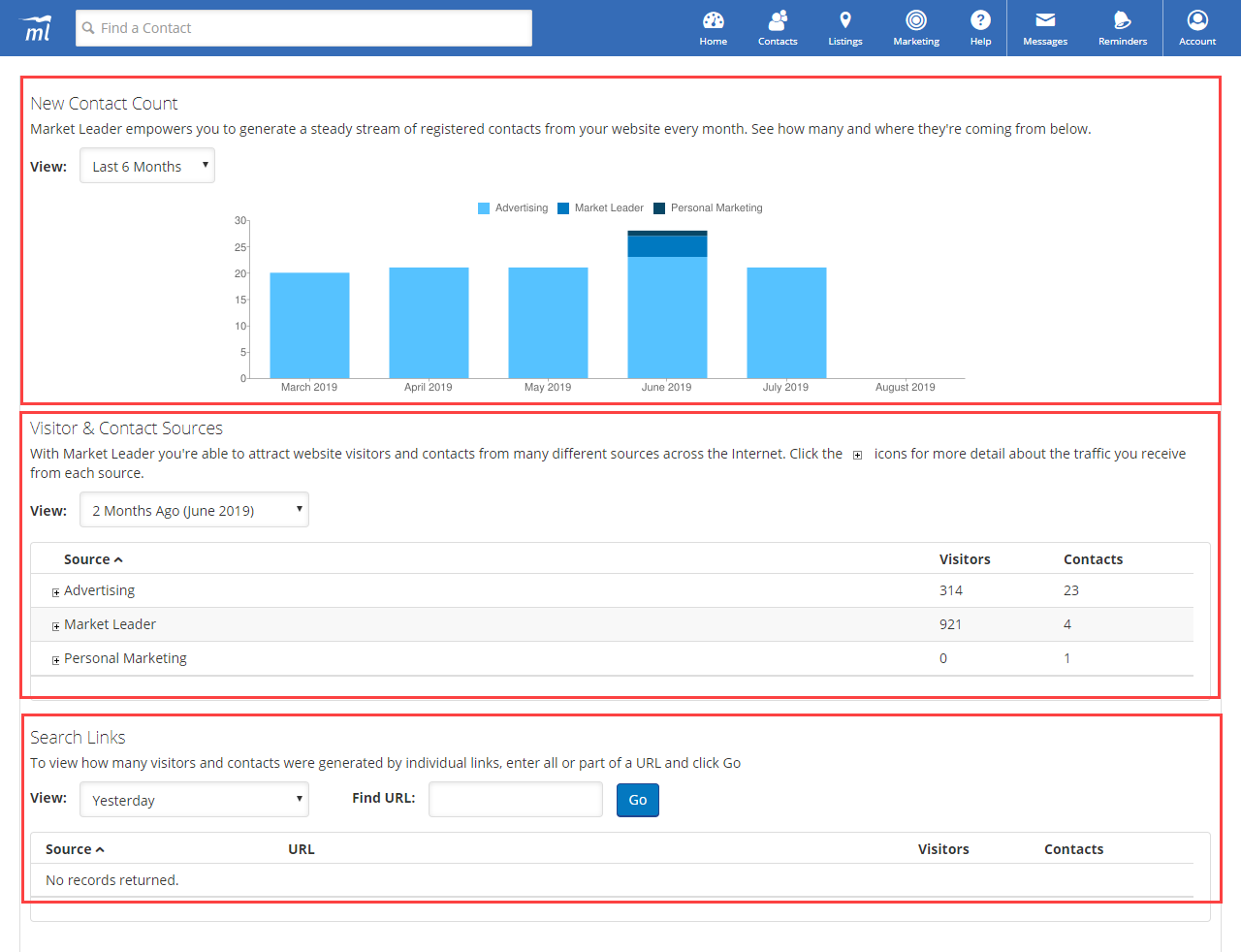 New Contact Count
Shows a bar graph of traffic counts with data grouped by sources Market Leader (from various Market Leader sources such as campaigns or other website visitors), Advertising (Market Leader leads), and Personal Marketing (SEO or leads from other sources such as Zillow).
Visitor & Contact Sources
Shows details of URLs from where visitors and contacts come. It also shows referrer URLs (meaning the URL that 'referred' them to your site) grouped by Market Leader and Personal Marketing. You can expand each group to view more detailed grouping of the data.
Search Links
A reverse lookup of visitor and contacts referrer URLs filtered by domain name. Instead of grouping the results, this report shows the source type (e.g. SEO or Facebook,) as a separate column.
Lead Categories
There are three categories used to identify your lead sources. Each category has sub-categories, that provide you with more detail on where your leads are coming from.
If you do not see a category or sub-category in your Site Activity, it simply means you haven't had anyone visit or register from that specific source.
Market Leader
Reflects the count of contacts resulting from listing syndication, natural search, and email. It includes the following sources:
Listing Syndication
Craigslist
Facebook
Search Widget
Search Engine Optimization (SEO) (We know the source URL, but these URLs don't fall into other categories)
Market Leader Campaigns & Emails (listings, listing alerts, welcome email, campaign, etc.)
Market Insider
Referrals (Contacts received from other agents who used the "transfer" link)
You may see a source listed here simply called "website". Most often this is bot traffic. These are leads that we are unable to track, because either the lead source or the connection to your website has blocked our ability to identify the original source.
Advertising
Reflects the count of contacts resulting from paid Search Engine Marketing (SEM) traffic that Market Leader provides, including HouseValues.com leads.
Leads Direct leads will be labeled Leads Direct, and HouseValues leads will be labeled HouseValues, so you can easily track your lead delivery, conversion, and ultimately your ROI.
Personal Marketing
Reflects the count of contacts resulting from personal marketing activities plus a count of contacts entered or imported by agents. It includes the following sources.
Offline Marketing (We do not have URL from which visitor/contact came to Market Leader. E.g., business card, flyer, or any other source we can't track.)
Entered / Imported
Third party leads (e.g. Zillow, Trulia, Realtor.com)
Online Marketing (Blogs, links, domain forwarding, etc.)
*for source to be reported accurately, the ref tag (?ts=<SourceTypeCode>) must be used. (e.g. www.servingyourtown.com/?ts=blg ). 

| | | |
| --- | --- | --- |
| Source Type Code | Web Location | Site Activity Source Group |
| fb | Facebook | Market Leader |
| crg | Craigslist | Market Leader |
| ar | Active Rain | Personal Marketing |
| pin | Pinterest | Personal Marketing |
| li | LinkedIn | Personal Marketing |
| twi | Twitter | Personal Marketing |
| cls | Online Classifieds | Personal Marketing |
| blg | Blog Platform | Personal Marketing |