Updated by Nicole Huntley
The Welcome Email is an email sent to new contacts that provides them with a link to your website, their login credentials to your website, and an introduction to you. There are two types of Welcome Emails in your system:
A version for contacts that register on your website: When a contact registers on your Market Leader website, they will automatically receive this Welcome Email from you.
A version for contacts you manually add to your system: When you manually enter a contact into your Market Leader system, you can check a box that will automatically send this version of the Welcome Email (this is the only instance where this version will be sent).
Who Gets a Welcome Email?
The welcome email is the ONLY way for consumers to receive their login and password to your website, so it's important to understand how/when this is automatically sent, versus manually sent. If a consumer does not have their login info, they won't be able to search on your website.
| | |
| --- | --- |
| Contact Source | How is the Welcome Email Sent? |
| Registered on Website | Welcome Email is sent automatically when a contact registers on your website. |
| Manually Entered | You can choose to have their welcome email send automatically when saving your new contact. |
| HouseValues | These leads DO NOT get a welcome email, you must send it manually. |
| 3rd Party (e.g. Zillow, Realtor) | These leads DO NOT get a welcome email, you must send it manually. |
For contacts that do not get a welcome email, we recommend sending them a quick note first, inviting them to your website, and letting them know they'll be receiving a Welcome Email with their login and password. Then send their Welcome Email.
Customizing the Welcome Email
Both versions of the Welcome Email are customizable. In addition to your custom content, the Welcome Email will automatically include your contact's unique website login credentials. To customize your Welcome Email, select Email Settings from your Account menu.

Click on Templates in the navigation pane on the left. Here, you'll see the two Welcome Email versions you can customize.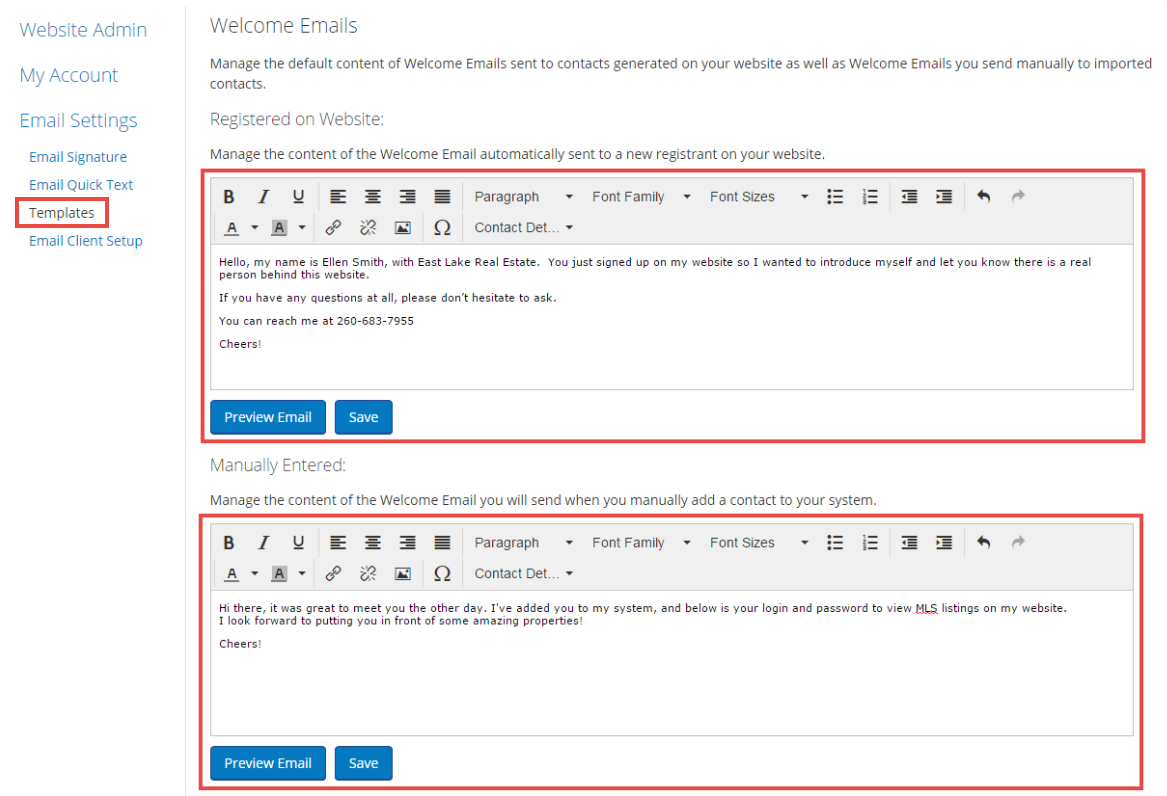 To customize the content, add/edit the text in the space provided. Use the editing toolbar to add links or change the font size or color. When you're finished customizing the content, click Save.

Since your profile image is automatically included in your Welcome Email, you do not need to add a photo to this template.
You can select Preview Email to view your Welcome Email as a contact would view it.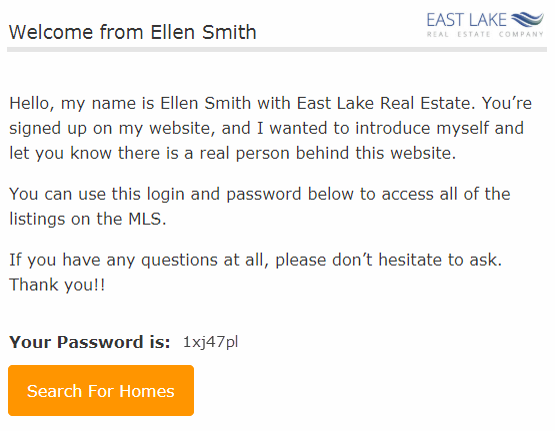 When the Welcome Email is sent, their password will automatically be filled in. 
Resend the Welcome Email
Since some contacts will not automatically receive a Welcome Email, you may have to manually send it. From a contact record, expand the More Actions menu, and select Resend Welcome Email.

Resending the welcome email will always send the 'Registered on Website' version.
Helpful Tips
We recommend you visit your consumer facing website, register as a test lead and view the Welcome Email to ensure it looks the way you intended.
Do not copy and paste text from Microsoft Word into your Welcome Email, as doing so can cause unexpected results.
Your contacts login and password are unique to them, so you won't be able to see their credentials, so sending the Welcome Email is the only way to provide it to them.