Since today's online consumer likes the anonymity the internet provides, email is often the best way to engage and start building a relationship with them. When sending an email from your system, you just need to choose the recipient(s), then compose your email. You can also take your emails to the next level with personalized greetings or subject lines too.
Sending an Email
There are three primary ways you can send emails from your Market Leader system:
All Contacts Dashboard
From the All Contacts dashboard, find the contact you wish to email, and then select Send Email from the More menu.

You can also send an email to a filtered list of contacts from here.
Learn more
From a Specific Contact
Click on a specific contact in your system, under Action Center, click the email address icon.

From Your Inbox
Click on Messages in the top menu, then click Compose.

Adding Recipients
To add recipients to an email, you can start typing the name of a contact in the To line, then select the correct contact from the list that auto-populates.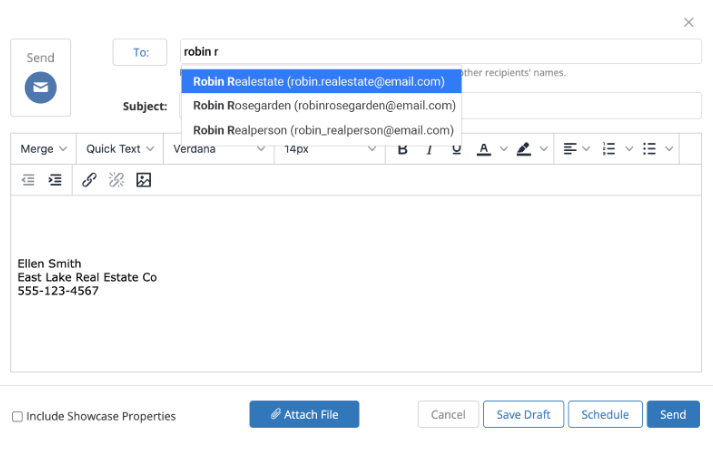 Or you can click the To button and select the contacts you want to add from a list.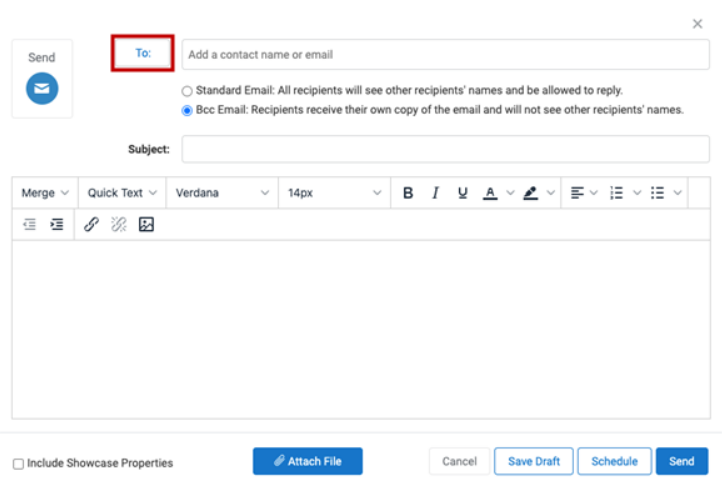 Here you can choose specific contacts or groups to add to your email, and you can contacts by group, contact status, name or email. Click the Add button to add them to the recipient list, then click Save & Continue. 
When sending an email from a specific contact, their email address will automatically populate the To line.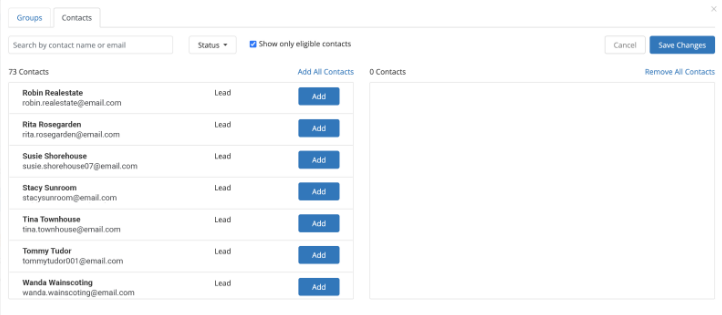 When sending an email, eligible contacts means they have a valid, deliverable email address. If they don't have a good, working email, they won't appear in the list. 
Once you save your recipients, you'll see them listed in the To line.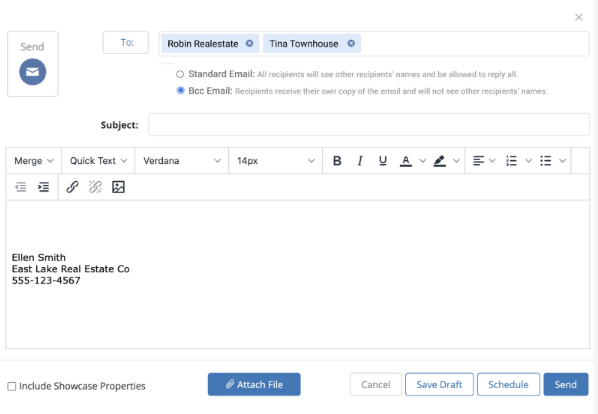 Choosing What Type of Email to Send
Standard Email: Recipients can see each other's email addresses and they can reply-all. Use this option when you are sending an email to a small number of contacts who know each other.  
Ex: Sending an email to a married couple or introducing a buyer to a lender. 
Bcc Email: Recipients get their own copy of the email. They can't see other recipient's email addresses and they can't reply-all. Use this option when you are sending bulk emails to contacts who don't know each other. (All Marketing Center emails and campaigns are sent this way.) 
Ex: Sending an open house invite to your buyer leads group.  
Note: If you are sending an email to only 1 recipient, it doesn't matter which option you choose. The recipient won't know the difference and will be able to reply directly to you either way. 
Composing Your Email
Enter a subject line, then add the body for your email or insert a Quick Text template. To attach a file, click Attach File and select the file from your computer. Learn more about Email Quick Text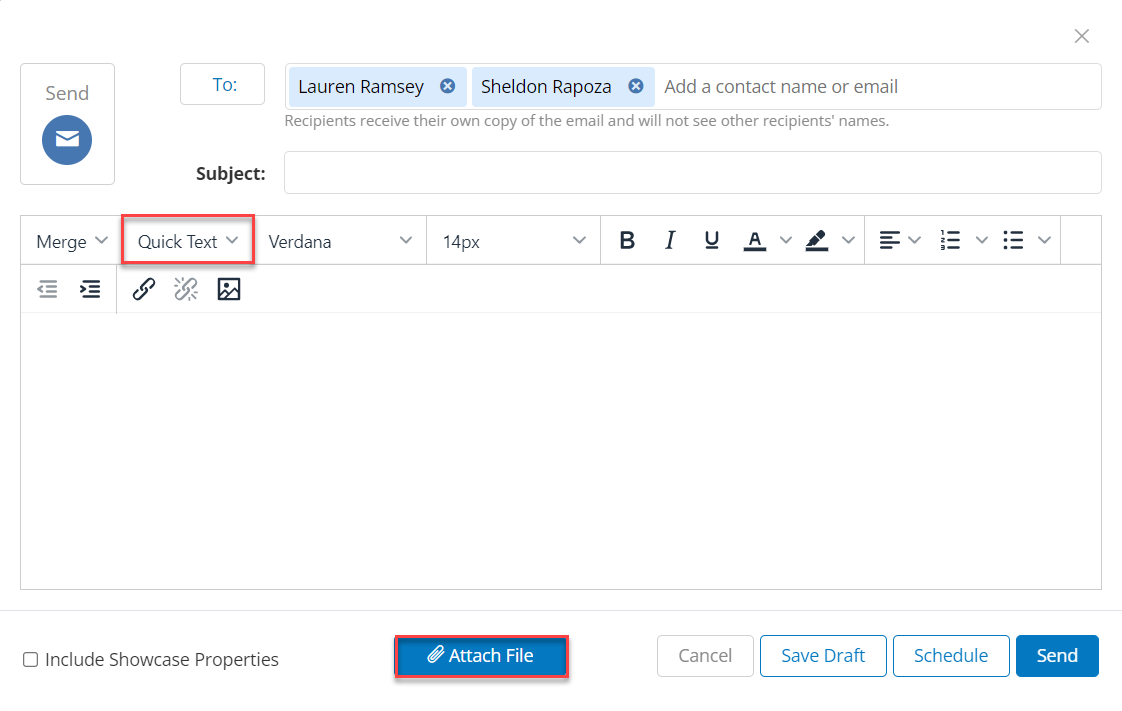 File size cannot exceed 10 MB. Total email size, including attachment, cannot exceed 12MB.
You can also choose to include showcase properties in your email footer:
If you check the Include Showcase Properties box, it will randomly pull 3 of your listings (or your office's listings) into the email footer.
Personalize Your Emails
You can insert Merge variables to give your email a more personal look and feel. For example, you can add the Contact First Name option, and it will add the contact's first name to the email.
To add merge variables to your email, simply select the field from the drop-down menu. Learn more about adding contact details to an email