Updated by Nicole Huntley
Market Leader provides a number of ways for you to promote individual listings. In the Market My Listings section, you can manage and review your property marketing activities and feature listings on your website. If you don't have any listings, you can market your office's listings, your colleague's listings, or even create custom properties to promote.
To take advantage of your property marketing tools, make sure you've added your Agent MLS ID and Office MLS ID. Then, click on the Listings menu and select Market My Listings.
Listing Display
By default, you'll see your own listings here, however you can select which listings to view and promote:
Your own listings (for this option, you must add your Agent MLS ID)
Your office listings (for this option, you must add your Office MLS ID)
SOLD listings (as long as your MLS supports sold data)
Custom properties you've added (this is a great option if you don't have any listings yet)
 If your MLS doesn't support sold data, you can add a custom property to showcase.
Video Overview: How to Feature Listings on Your Site
You can choose to feature listings on your website; featured listings will appear on the My Properties page of your website, as well as the About page. Watch this short video to learn how to feature specific listings on your website.
You must have at least 2 listings selected to appear on your website in order for the Featured Listings section to appear.
To view, rename, or update the SEO settings for your My Properties page, click on the Website menu, and select Edit Site. Then, find the My Properties page and expand the page menu.

To increase traffic your featured properties page, you can add the My Featured Properties widget throughout your website.
Include Listings in Your Marketing Emails
To include up to three listings to showcase in your emails, simply check the 'Showcase this property on your Marketing Email' box. This will essentially make the listing eligible to be included in your emails.

Then, when sending an email, just click the 'Include Showcase Properties' box at the bottom. When you send the email, three of your selected listings will be added to the footer of your email.

If you only want 1, 2, or 3 specific listings to be showcased in your email, make sure all other listings are un-checked, and check the box for only the properties you wish to include.
Market Your Showcase Properties
For each property that appears in the list, you can choose how you showcase the listing. You have a variety of options to market properties:
Active Listings & Custom Properties:
Feature listings on your website (these appear in the Featured Listings section of your home page)
Showcase the property in your emails (up to 3 listings will be added to the footer of your marketing emails)
Easily create property marketing materials in your Marketing Center with listing enabled designs
Create a single property website to impress potential sellers (you can only create a Single Property Website for your own listings)
Sold Listings (including custom properties in the sold status):
Feature sold listings on your website (these will appear under the Recent Sales on your About page)
Easily create Just Sold materials in your Marketing Center (listing enabled designs save you time!)
You can change the header on any Just Listed design to Just Sold, so you have a lot of design options to choose from!
Options for Sharing Listings
Email
You can email your listing to targeted contacts in your system; you can share the property details page (from your website), a Single Property Website, or you can send any listing marketing emails you've created. Simply select what you wish to email from the drop-down menu, and click Email.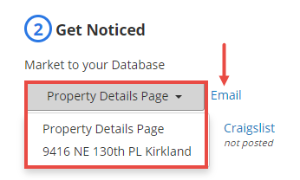 Now you can choose the contacts you want to send this too. Think of this as a reverse look-up to find contacts in your database who are looking for properties similar to the one you're sharing.
You can expand the search parameters to find just the right list of contacts, including budget, area, and contact type. You can also choose whether you want to send this only to contacts that have not seen this listing, by selecting No in the Resend menu.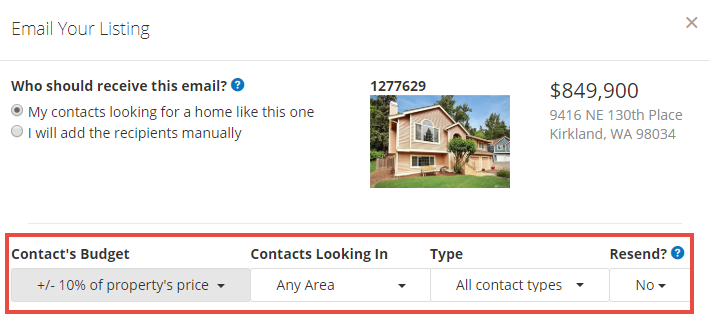 If you don't want to search for targeted contacts to receive your email, you can select to manually add contacts as well.
Social Sharing
Get even MORE eyes on the listing with additional sharing options! For active listings, you can share the property detail page (right from your website), for your listing to Facebook, LinkedIn, Craigslist, or in an email to your contacts. Now that's maximum exposure!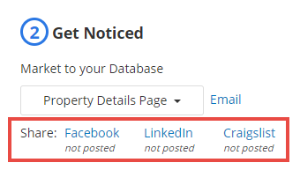 Print
If you've created a property flyer or postcard, you can order print right from here. Just select your print design, and click Print, then you'll be able to complete your print order in the Marketing Center.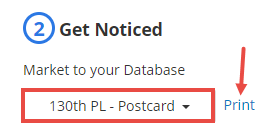 Marketing Activity Report
View marketing activity for each active listing to gain insight into how effectively you're marketing each property — from social sharing and print collateral, to property page views and email open rates.