You can manually add contacts to your Market Leader system to give them access to the listings on the website, to set them up for Listing Alerts, and to track their activity on the consumer website.
To add a new contact, start by clicking on the Contacts menu and select Add a Contact. Or, from your All Contacts page, you can click the Add Contact link in the top right.

The minimal amount of required information to add a contact is:
First Name
Last Name
Email Address OR Complete Physical Address OR Phone number
The Add a Contact page has five sections:
Primary Details
Notes
Address
Secondary Details
Groups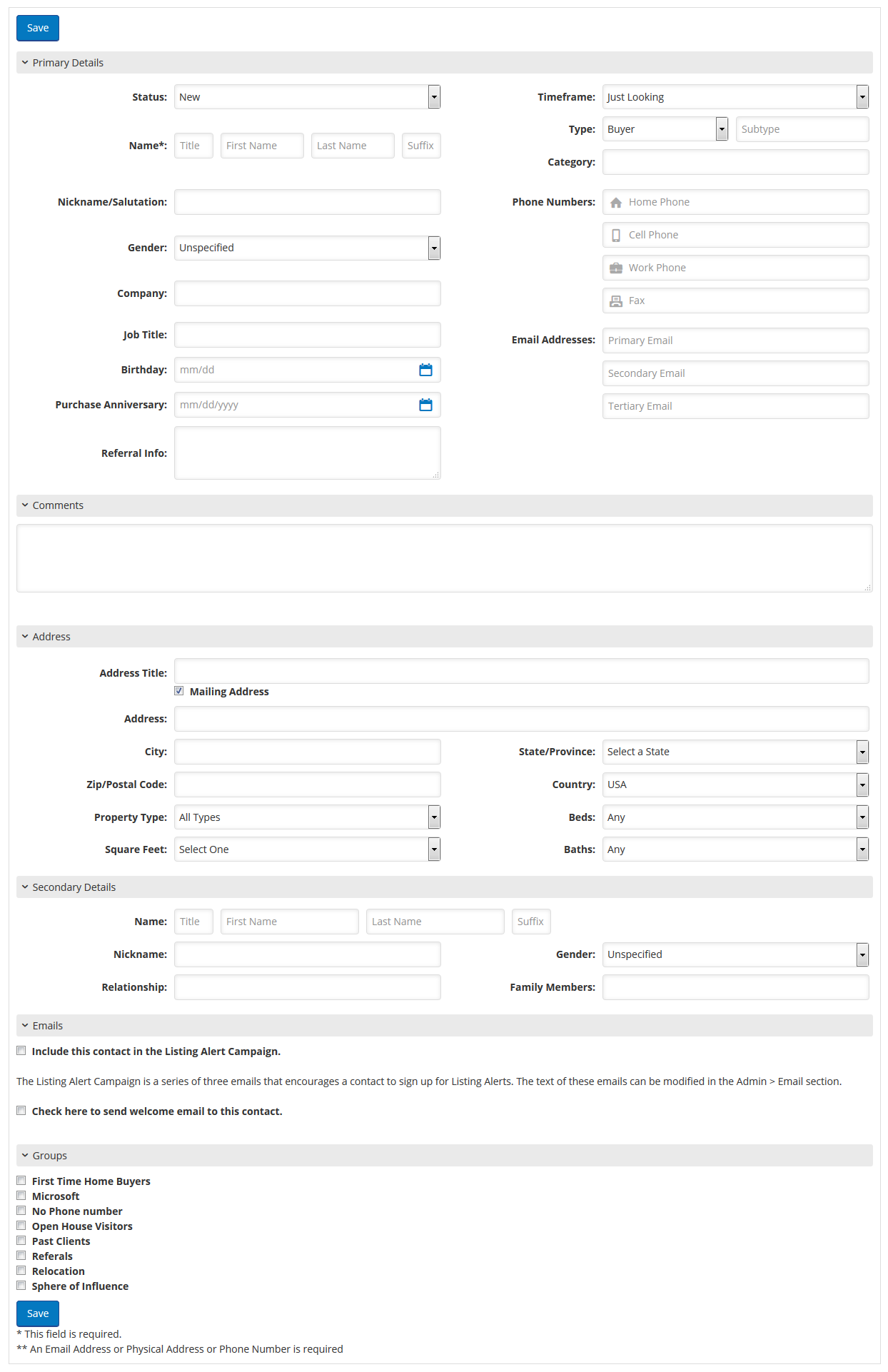 Primary Details
The Primary Details section is where you'll enter basic information about your contact, such as their name, phone number, or email address.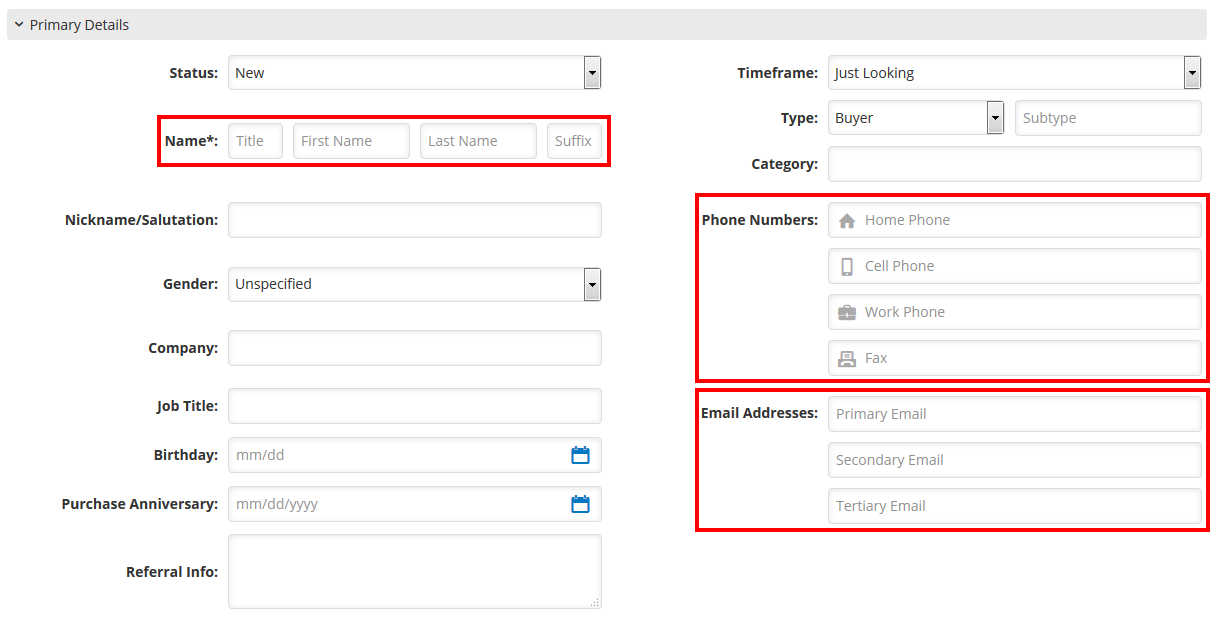 The Status menu allows you to quickly and easily identify those contacts that need your attention and are most likely to become clients. When manually adding a contact, the most likely status types to use are:
Lead: This status is only for new leads that you haven't followed up with yet. Contacts with this status are displayed on your Dashboard.
Retry: Use this status for leads you've followed-up with, but aren't sure if they're going to move to the hot, warm, or cold status.
Warm: Helps you identify leads you've already talked to and started to work with.
Hot: Use this status for leads that are ready to buy or sell now.
Sold: Use this status for past clients.
Learn more about Contact Status types.

The Timeframe menu lets you indicate the approximately timeframe your contact is looking to buy or sell a home.

The Type menu is where you'll indicate what type of contact they are, such as a buyer, seller, or renter. The Subtype field, to the right of the menu, is a free-form field. What this means is you can develop your own subtypes, to help further define what type of contact this is.

If you enter your contact's birthday or purchase anniversary date, then you'll receive a To Do 7 days before that date. That gives you a chance to send your contact a postcard or greeting card, celebrating the day with them.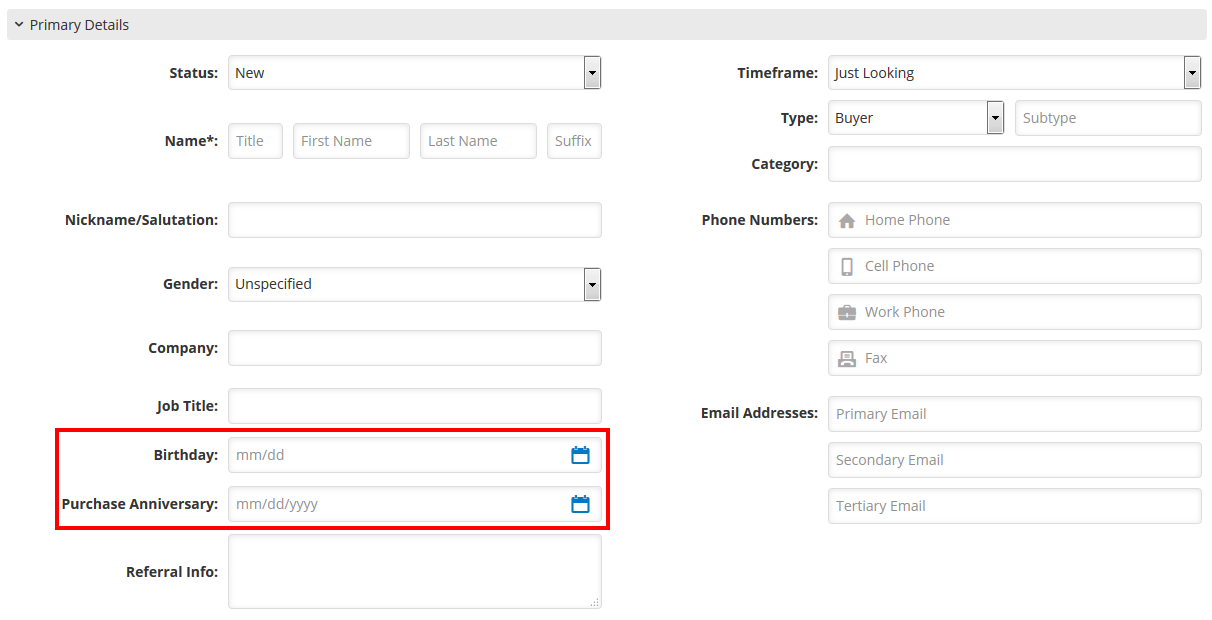 Notes
Enter any initial comments or notes about this contact here. These will be saved in their contact record for future reference. The contact will not see anything you write here. Learn more about Notes.

Address
When first entering a contact, we'd recommend entering their primary mailing address in the address section. After you've saved the contact, you'll be able to update the contact page with additional addresses. Fill in all the relevant fields. By selecting the box next to Mailing Address, you are designating this address as the one you will use to send marketing materials to this contact.
The required fields for print marketing are:
Address
City
State/Province
Zip/Postal Code
Country
If the Mailing Address box is not checked, the address won't export, so as a best practice, we always recommend checking this box for a single address.

Next, select the property details you know about this property using the drop-down arrows. Select from Property Type, Square Feet, Beds, and Baths.
To add an address for an existing contact, go to the Properties tab of their record.
Learn more
Secondary Details
Secondary Details is where you can enter the name of a spouse, child, or alternate contact. Adding secondary details also allows you to send listing alerts to the secondary contact. Learn more about Listing Alerts.

Groups
If the contact you are entering belongs in any of your existing Groups, you can select the group you would like to add the contact to here. Just put a check mark in the boxes next to the Group(s) you want the contact to appear in. Learn more about Groups.

When you have finished adding your contact, you can click the Save button, found both at the top and bottom of the Add a Contact page.