When you get a new seller lead, you can send them a quick CMA from your system to provide them with an estimate of their home's value, as well as open the door for more engagement with them. The CMA in your Market Leader is an easy-to-create mini-CMA that is pre-formatted and pre-populated with customizable text. It can include current active listings from the MLS as well as sold comparables to support the price range you determine. You can create this CMA as an email or printable document.
How to Send a CMA
Send a quick CMA in a few, easy steps:
Select distribution method (Download PDF, Email, or Both)
Enter the contact's property specifications and estimated price range
Select Active Listings
Add Sold Comps
Add Additional Comments
Review and Print/Send report
Enter Home Specifications
From you All Contacts view, or from the specific contact record, expand the menu by clicking the three dots, and click Send a CMA.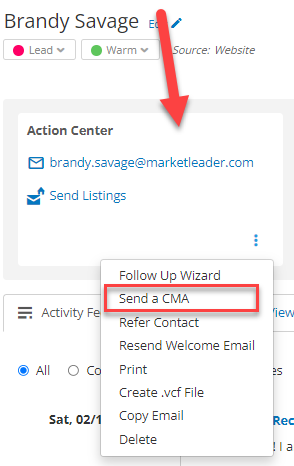 Choose how you'd like to send the CMA:
Download a PDF (attach to an email, mail directly, or hand deliver)
Email (if you choose to email it, it will automatically select the contact's email address)
Both (you can choose to email and download as a PDF)
Next, select the address for the contact's home, if there is no address in the system, you can type it in. Then enter the number of beds and baths, as well as the estimated price range based on your expertise, and click Continue.

Since you're estimating sight unseen, we recommend keeping the price range fairly broad.
Next, you can edit the default text for the CMA if you wish. When you're finished making any edits to the text, click Continue. (If you'd like to permanently edit the default text, go to profile admin > email settings > templates).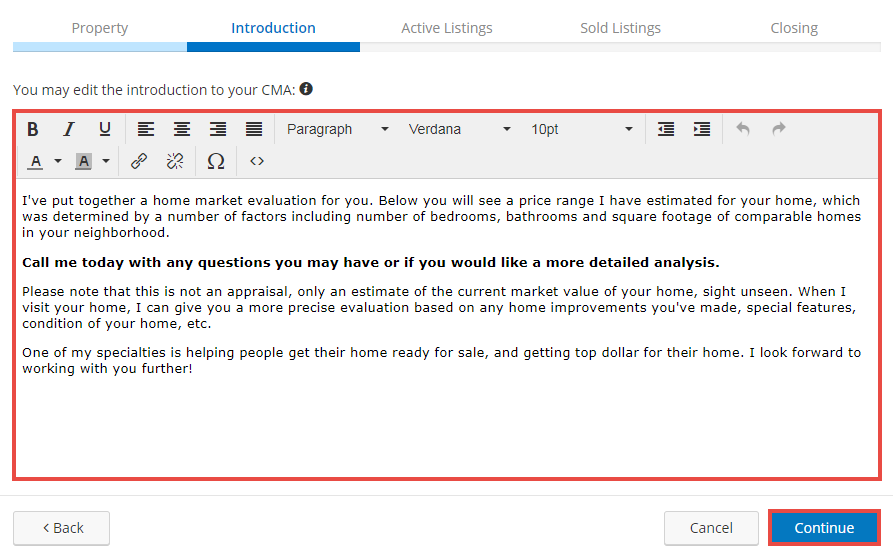 Select Active Listings
You have the opportunity to add 3 currently active similar properties to your CMA. Enter the area, property type, price range, beds & baths. Or you can enter the MLS ID number(s) for specific properties. Click Search.
Select the properties you'd like to include in your CMA by the Add link for the specific property, then click Continue.
Add Sold Comparables
Add up to 3 SOLD comparables to your CMA. Here, you have a few options based on your MLS:
Manually enter sold data
Search Public Record Sold Data (if your MLS doesn't show sold data)
Search Sold MLS listings (if your MLS DOES include sold data)
To search for sold comps, enter the search criteria and date sold range, and click Search. Then, select your sold comps by clicking the Add link. Once you've selected three, Continue.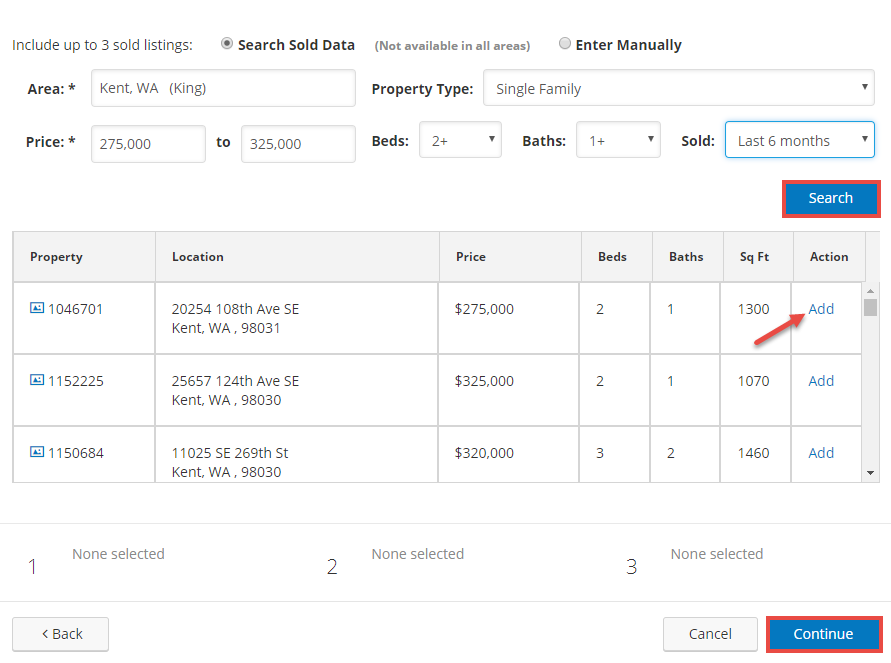 To manually enter sold listings, select that option and enter the details of the listing(s) and click Add for each listing. Then click Continue.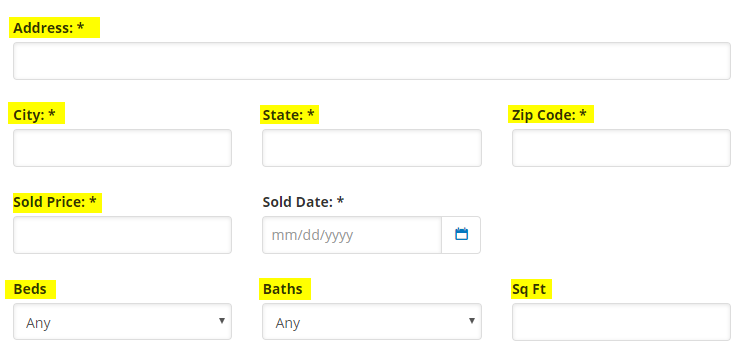 Additional Comments
Enter any additional comments you'd like to include with your CMA. Your email signature will be automatically added, so you do not need to include it here.  Next, click Preview.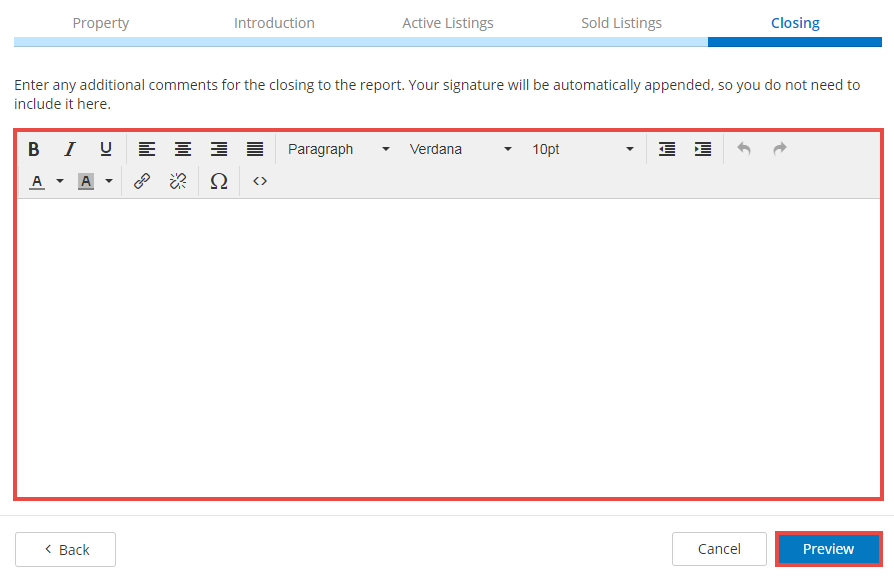 Now you can review your CMA. If edits or changes are needed, click Back.
Otherwise, click Send or Save (depending on the distribution option you selected).
Best Practices:
If you choose hand delivery, include 2 business cards with the CMA, and if you have a phone number, it's not a bad idea to give them a call and let them know you'll be stopping by.
This CMA is designed to open to door to engaging with new seller leads, once you send the CMA, send a follow-up email asking what they thought of your estimated price (template below). Because selling a home can come with a lot of emotion, you'd be surprised how often people respond.
Subject: [Area] Home Value Hi there, I just sent you a quick CMA with a estimated value of your home. What did you think of the market evaluation for your home? A little high, too low?