Website Logo and Hero Image
You can customize the hero image and logo that appears on your website. Below is an example of the Bungalow layout that shows where the logo and hero image appear.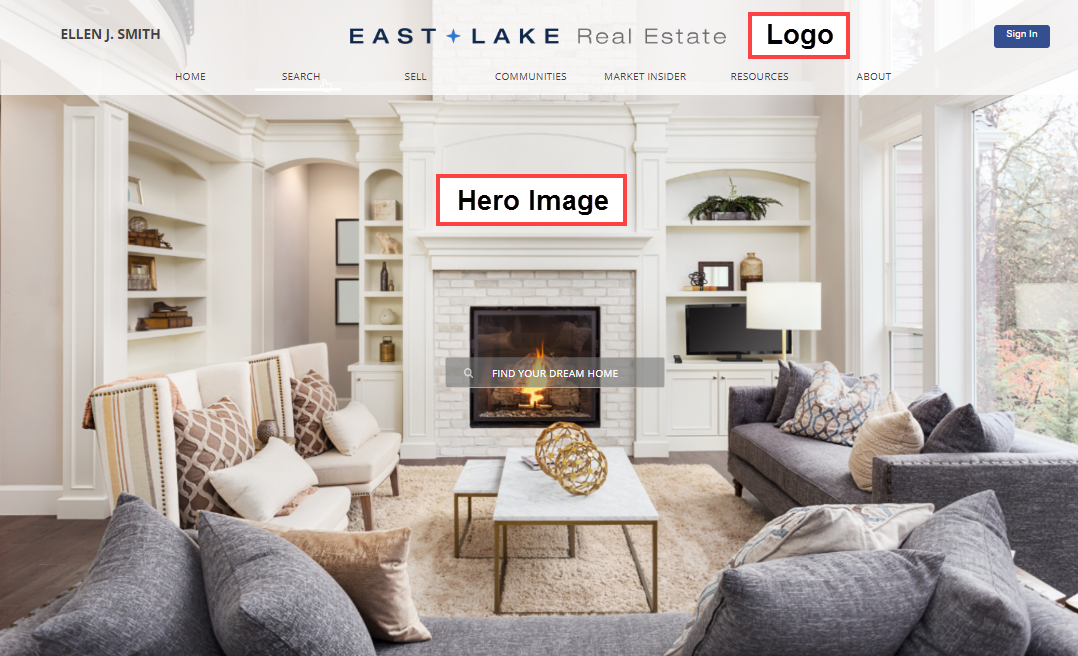 Website Logo
To customize your website logo, select Edit Site from the Website menu, then select Appearance in the left-side navigation menu. Then click the Change Logo button.

Depending on your brokerage, you may not be able to customize or change your default logo, or you may only have the option to choose from the logo catalog.
Here, you can choose from our catalog of logos (if you do not see your logo as an option, you will have to upload your own), or upload your own logo. To select a logo, simply click on the logo and it will automatically update.
To upload your own, click the Upload Image tab, then click the Select File button. From here, simply browse and find the logo you wish to use, and then click Upload.

Hero Image
To customize your hero image, you'll need to launch the Website Setup Wizard (even if you've already setup your site). To access the Website Wizard, select Edit Site from the Website menu, then select Appearance in the left-side navigation menu, and click the Launch the Website Setup Wizard button.

Once in the Website Wizard, click Next twice to advance to the images step. Here you can upload a different image, or add up to 4 images for a scrolling hero image. To change the hero image, click Edit, then click Choose. From here you can choose from your profile image, stock images, or upload a new image.

Be sure to select images that compliment the look and feel of your website. If you have a light and airy look, avoid darker images and vice versa. You should be thoughtful about what images you add to your website.
When adding an image, you can add an image headline, which will darken the image and add a white text overlay, and we recommend adding a meta description to help boost SEO. When you're finished, click Save.

To add additional images for a scrolling banner, click the Add Image link. Repeat for each image.

When you're finished, click Next, and then click Save.
Image Sizes
When adding a logo or hero image to your website, we'll optimize/resize the image to make sure it looks great. Image size is far less important than it used to be, what matters most is that you use a large, high-quality image.
For reference, here are the hero image dimensions (your image does not have to be exact):
Bungalow & Villa Layouts: 2800 x 1866
Tudor Layout: 1920 x 768
When uploading your own hero image or logo, try to aim for this size or large, and avoid images that are smaller. For your logo, there is no recommended size since logos come in all shapes and sizes. We'll optimize it once it's uploaded.