Why use a Mailing List?
Targeted, direct mail is a great way to generate more leads for your real estate business. You can target a geographic area, demographic group, or a niche market and provide relevant information to get consumers to your website so you can turn them into clients.
Mailing List Best Practices:
Pick designs that will resonate with your audience
Drive people to your website with a compelling call-to-action
Find a niche or under-served market to target your direct mail piece
Reuse your lists, it may take 6 months for a lead to contact you so send multiple mailings
Once a contact responds, add them to a marketing campaign or email listing alert
Upload Your Mailing List
In your Marketing Center, you can upload a Mailing List, to send relevant, targeted direct mail pieces to your sphere or farm. To upload an existing mailing list, start with a print design that you have customized and saved.
Click here to learn how to select and personalize a print design in your Marketing Center.
Select the design that you are ready to mail. Then, check Print Mailing Addresses on Pieces.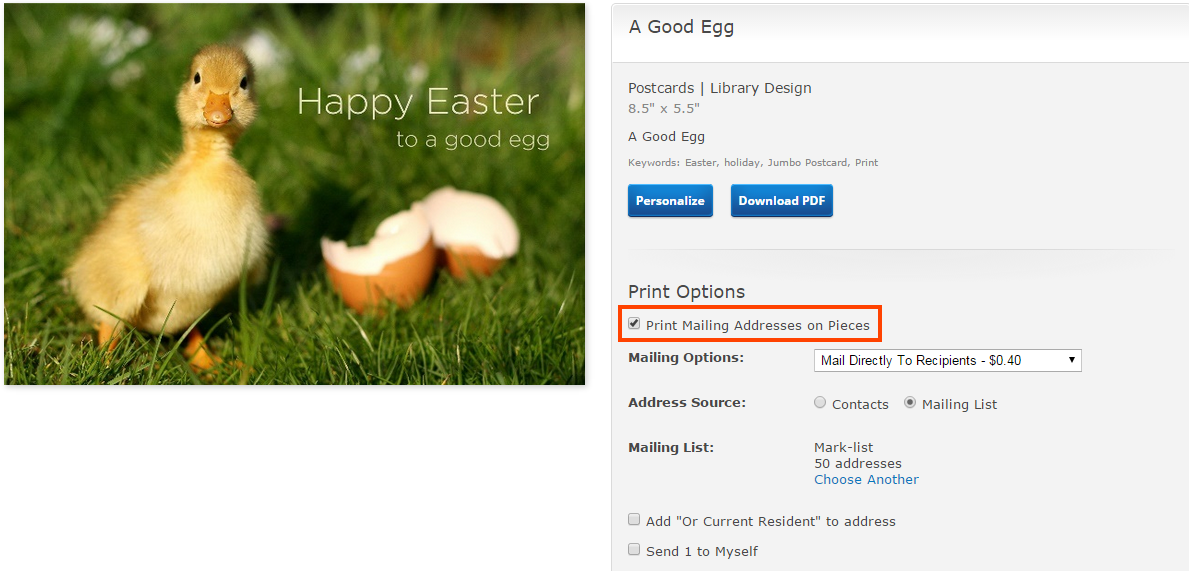 In the Print Options section you will see a drop-down menu with 2 options for your print design:
You can have the pieces sent to you with the address already printed on them
You can have the pieces mailed directly to the recipients in your mailing list (postage fees apply)
Next, click Mailing List button.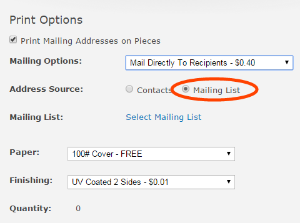 Then click the Select Mailing List link.  From here you can search for a mailing list file or drag and drop one you have already prepared.
To prepare a mailing list click on the 'mailing list template' and load names and addresses into the template making sure not to change the format or remove any columns.  Mailing lists require the First and Last name along with the street address, city, state, zip AND country.
Once you have selected the Mailing List you wish to use, you will need to name your list. We recommend naming something specific, and relevant to your list (e.g. Seattle Buyers, Bellevue Renters, etc.) Next, click the Upload button.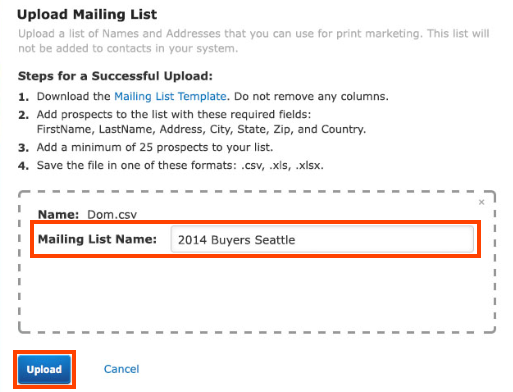 Once the system validates your Mailing List, your list will be successfully added to your Marketing Center. However, you may get an error; below are the most common mistakes that can occur when uploading a Mailing List:
Unusable addresses:  This can be due to missing or invalid information (like state code)
Does not meet minimum addresses: There is a minimum of 25 recipients for print
Special characters in Mailing List name: The system will not allow a mailing list with special characters in the name
Column headers are missing: The Mailing List upload has a required column header layout that can be found by using the template. While each column does not need information in it, you can not remove the columns you are not using.  
Columns that require content are blank: For each entry you must provide - First Name, Last Name, Address, City, State, Zip, and Country
Duplicate Mailing List name: You cannot use the same name for two different mailing lists
Invalid file type: The acceptable file types for uploading are .CSV, .XLS, or .XLSX
Once your list is uploaded, we always recommend adding "Or Current Resident" to the address, as well as sending one to yourself, so be sure to check those boxes as well.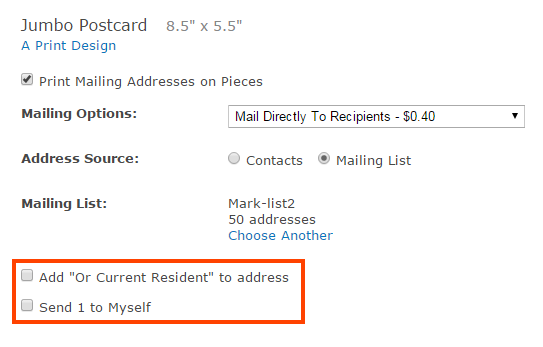 From here, click the Add to Cart button to finish your order.
Click here to learn how to complete a print order.
Your Mailing List will be stored in your Marketing Center for future use, so you can use it again and again. However, you cannot edit an uploaded mailing list. If you need to make edits to a mailing list, we recommend you make changes to the actual file, save it, and then re-upload it with a different name.
Manage Your Mailing List
Mailing lists are a great way to really dive into a targeted market or farming area. Once you upload a mailing list, it will be stored in your system, and you'll have a few options for managing it later on. To manage your mailing lists, click on Mailing Lists in your Marketing Center.

From here, you can do the following:
Search for your list by name
Preview the first 25 rows of any list
Download your list to an Excel or CSV file
Rename any of your lists
Delete old or outdated lists

Print Mailing Labels
Remember, mailing lists are NOT contacts in your system, so if you wish to print labels for a mailing list, you can import your mailing list so they will be contacts in your system. Just be sure to create a special group first, then import your mailing list into that group (you can even go in and delete the contacts after you print the labels).
Once you've imported your mailing list into a group, you can run a contact search for that group, then print labels.