Using the Marketing Email Editor
The marketing design editor lets you personalize your marketing emails to suit your needs and send just the right message. Since your marketing emails are HTML optimized, they're designed to adjust to various devices and screen size, so editing a marketing email has a few limitations in order to maintain the necessary formatting. 
Email Editor Basics
When personalizing a marketing email, the tool bar allows for basic editing functions:
Text: Adjust font type, color, size, alignment, add bullets, or even insert an article.
Links & Videos: Hyperlink images, or add video links.
Images: You can add, remove, or replace images in your email design. 
Editing Functions: Copy, paste, save, undo, redo, or preview your email design.

When you hover your mouse over a button on the tool bar, you'll see what function the button does.
Layout & Design
The layout and structure of the email design is what allows it to scale and resize to fit the recipient's screen size, so each element in the email is in a container. These containers are designed to hold elements in place, and they can be identified by the dotted boxes around the text and images.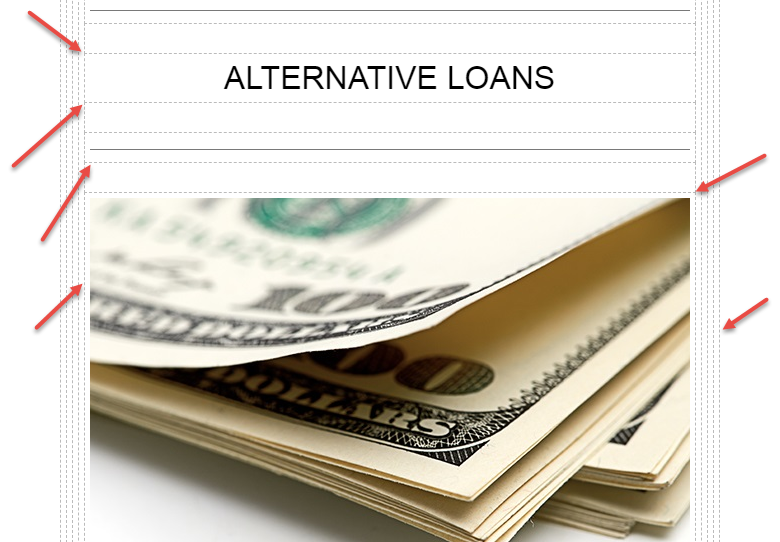 When moving objects in your email, be mindful about the container the element is in, as moving an element outside its container can greatly affect the way your email will look when sent. To move an element in your email design, simply click on the element and drag it to where you want it. You may have to do this several times to get the desired outcome.
Moving elements out of their container can negatively impact how the email resizes and scales. If you move an element, ALWAYS send yourself a test email to see what the recipients will see.
Images
To replace an image in your email, just click on the image. Then you'll see the Image Library slide in from the right. From here, you can select the image you wish to use; you can choose from stock images, or images you've uploaded into your Image Manager.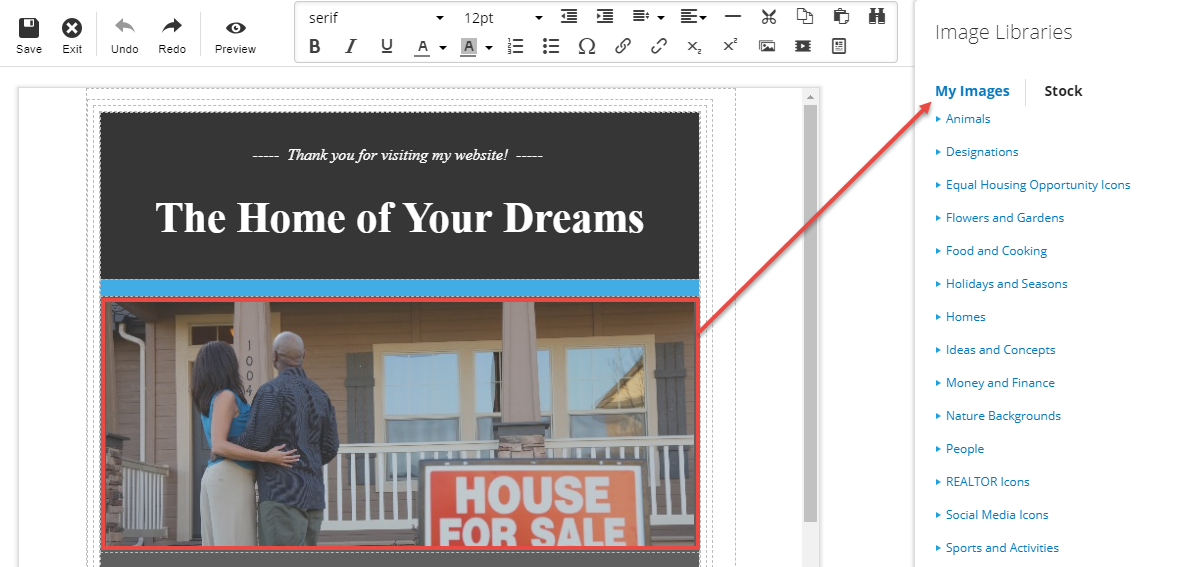 Since the images are in containers, the image you use must be similar in size to the image you're replacing, otherwise it won't fit the container properly, which will result in a lot of empty white space.
Preview the Email
Once you've edited your email, you can preview it and even send a test email to yourself to make sure it looks great. You can choose to preview the desktop version or mobile version, and to send yourself a test email, simply add your email address in the space provided and click Send. 
Our editor is not what you see if what you get, things can shift or change when you hit "Save", so make sure to preview or send yourself a test email to make sure nothing changes!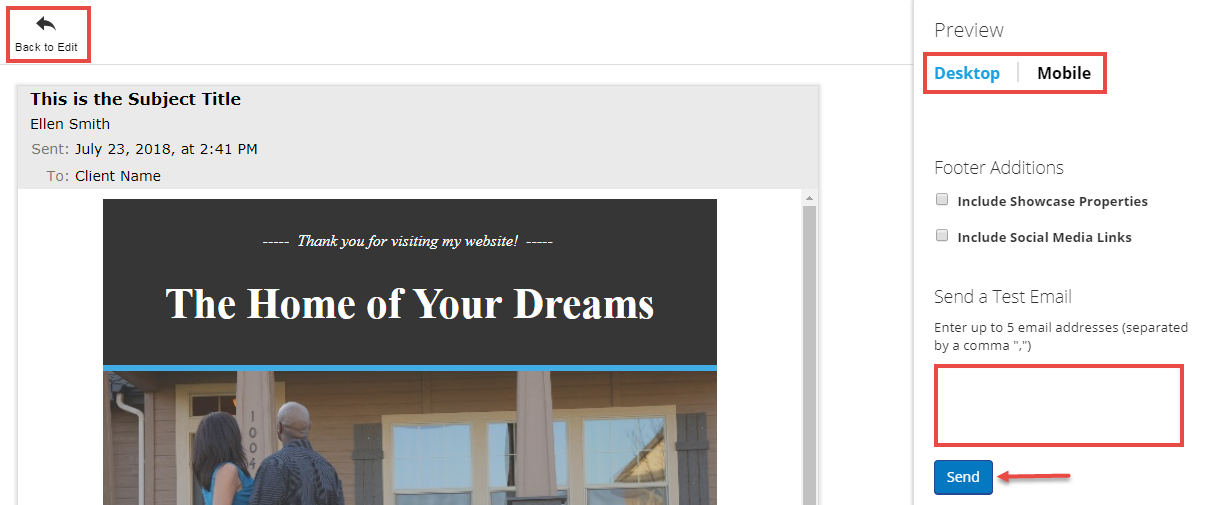 To resume editing, click the Back to Edit button. When you're finished editing, save your email design and name it, and then exit the editor. Now you're ready to send the email to your contacts.
Tips & Tricks
If you're text is double spaced, simply hold [Shift] and then press [Enter] when adding a line break to ensure a single line.
If you create a listing enabled design without adding a specific MLS listing ID, you may get the following error: "Error converting data type varchar to bigint". If you get this error message, you want to be sure you customize/modify ALL text and images in your design.
If you've moved an element and don't like your changes, simply click the Undo button until all of your changes are gone.

If you want to wrap text around an image, simply move the image to the desired area, click on the image, and then select Left or Right alignment. This will wrap the text around your image.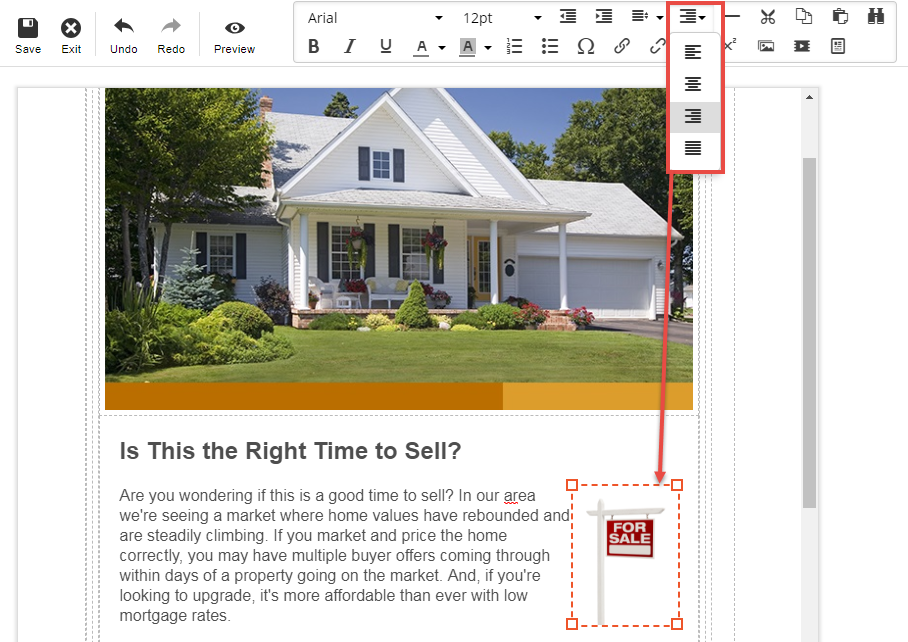 Again, since your marketing emails are HTML optimized, there are limitations around how much you can customize your design, so if you do make modifications, ALWAYS send yourself a test email to ensure your email is on point.