Network Boost gives you access to intelligently and efficiently generate leads from the millions of consumers using Facebook and delivers you a reliable flow of leads to grow your sphere every month. Your ads are optimized for lead generation and feature your current and sold listings. Don't have any recent listings? No problem. We'll feature content that's attractive to buyers and sellers to generate leads. We update your ads automatically when you do get new listings and as a listing status changes – there's no maintenance required by you.
 Learn how to:
Turn on Network Boost 
Modify Network Boost
What happens once Network Boost is turned on
What to know about the leads generated by Network Boost
Check your Network Boost progress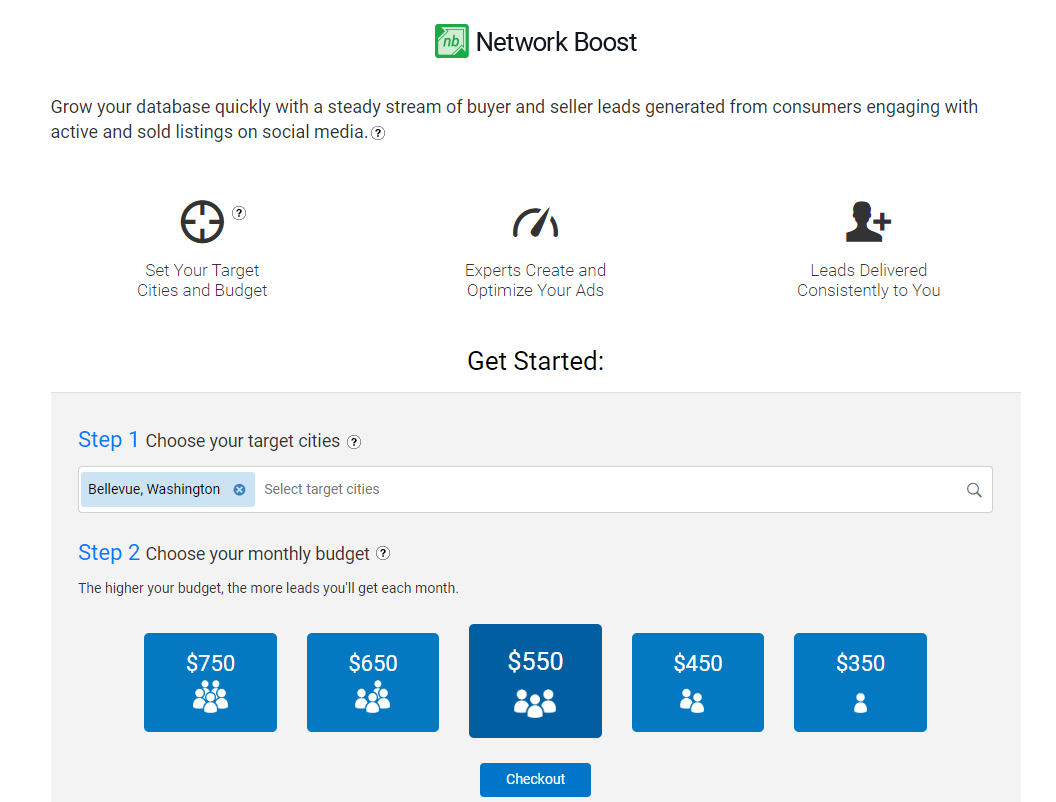 How to Turn on Network Boost
a. In the Marketing tab, click Network Boost.
b. In the Get Leads tab, click Network Boost.
c. Click the Help Tab and select Leads and in the Network Boost card, click Get Leads.
Next, Choose your target cities.  You can select up to 5.
Choose your monthly budget. You can choose one of the pre-defined options or choose a custom amount from $350 - $750.
Complete the payment authorization page.
You will receive an email notification once your Network Boost Ad is live.
Leads generated from Network Boost will be added automatically into your Market Leader system.
Modify City
a. In the Marketing tab, click Network Boost.
b. In the Get Leads tab, click Network Boost.
c. Click the Help Tab and select Leads and in the Network Boost card, click Get Leads.
Click the Modify button in the Ad Details section.
You can modify your cities at anytime without requiring a 6-month agreement.
To adjust your budget, you will need to contact a Market Leader representative to make any budget adjustments. Please note that any budget changes will require a new minimum 6-month agreement.  After 6 monthly payments, you will automatically be billed on a month-to-month basis.
Note: If you have a pending quote due to changes in Leads Direct or Network Boost, you will not be able to make another change in the system.  Please contact Support to continue modification.
What Happens Now
Once you signed up for Network Boost, your ad will show up on Facebook and Facebook-owned applications as soon as they're ready. You will receive a notification once your Network Boost ads go live. You will also receive notification each time you receive a new lead. We recommend making sure you have the Market Leader CRM app downloaded on your phone and enabling mobile notifications in the account area of the system. We want you to be able to reach out to all of your leads right away. Click here to learn more about activity alerts.
Click here to see what the Network Boost leads experience is from start to finish!
What to Know About the Leads Generated by Network Boost
When a lead clicks on your ad, they will fill out a form that collects their name, email address, and phone number. Note, information is usually auto-populated by Facebook.
When new Network Boost leads come into your system, their source will identify them as Network Boost leads. Additionally, leads generated from Network Boost ads will generally be in the early part of their homebuying or selling journey and may not be as engaged as someone who is ready to buy or sell in the next 30 days. As such, leads generated from Facebook ads will need some nurturing to determine the best way you can serve them. That's where we come in!
All new Network Boost leads are automatically added to the "New Lead Nurture: Network Boost (Email)" campaign. This drip campaign is a series of plain text emails designed to look like they are coming directly from you. Each emails asks basic follow-up questions about the lead's preference to prompt them to respond. When the lead responds, they are automatically removed from the campaign, and you get a Hand Raise alert so you can personally follow-up with them. Make sure you follow up!
Viewing Performance of Your Network Boost Ads
Once your ads are live, you can check the performance of your Network Boost ad through any of these steps:
In the Gets Leads tab, select Network Boost.
Click the Help tab and select Leads. In the Network Boost card, click Get Leads.
In the Marketing tab, select Network Boost.
The All-Time Ad Performance will display an overview for all your ads:
Impressions - Total number of times an ad was viewed
Reach - Total number of unique users who viewed the ad
Clicks - Number of users who clicked on the ad
Leads - Number of users who filled out the form (to become a lead) after clicking on the ad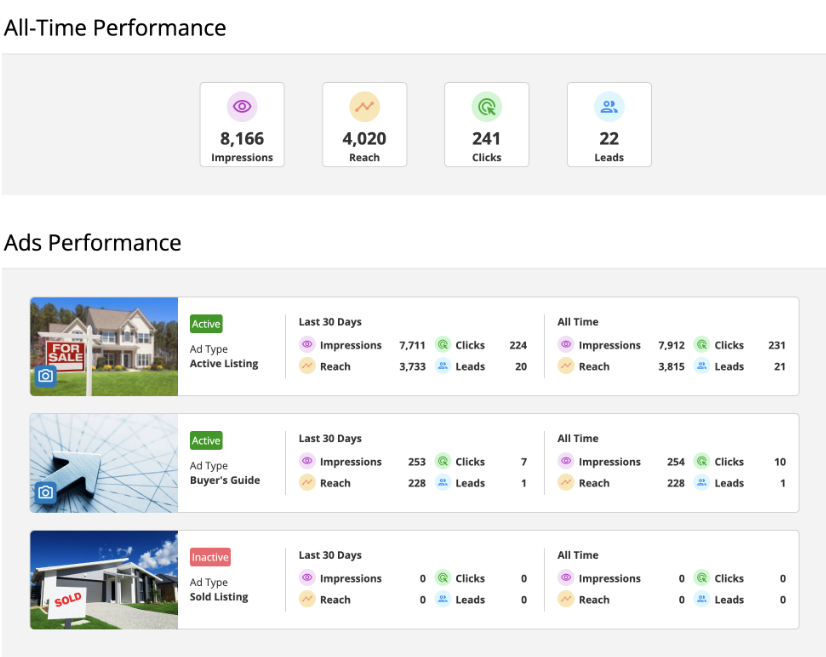 Under Ads Performance, you can look at the individual ad performance. By clicking the blue camera button in the bottom left of the ad photo, you can load an example of your specific ad.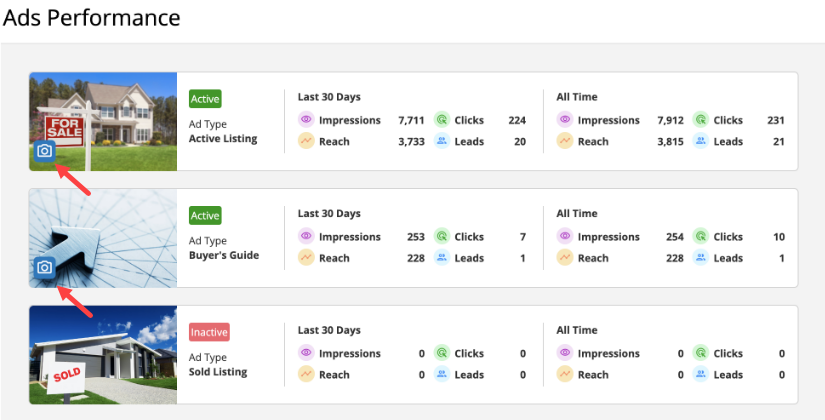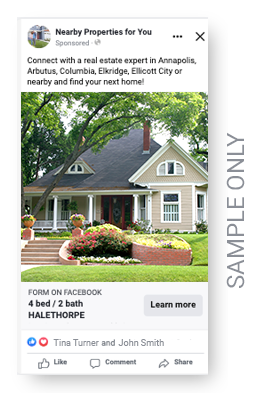 At the bottom of the page you can view Your Recent Leads that have been created from your ads in the last 30 days. If you click the View All Network Boost Leads button, it will bring you to your contacts page filtered with your Network Boost leads from all time.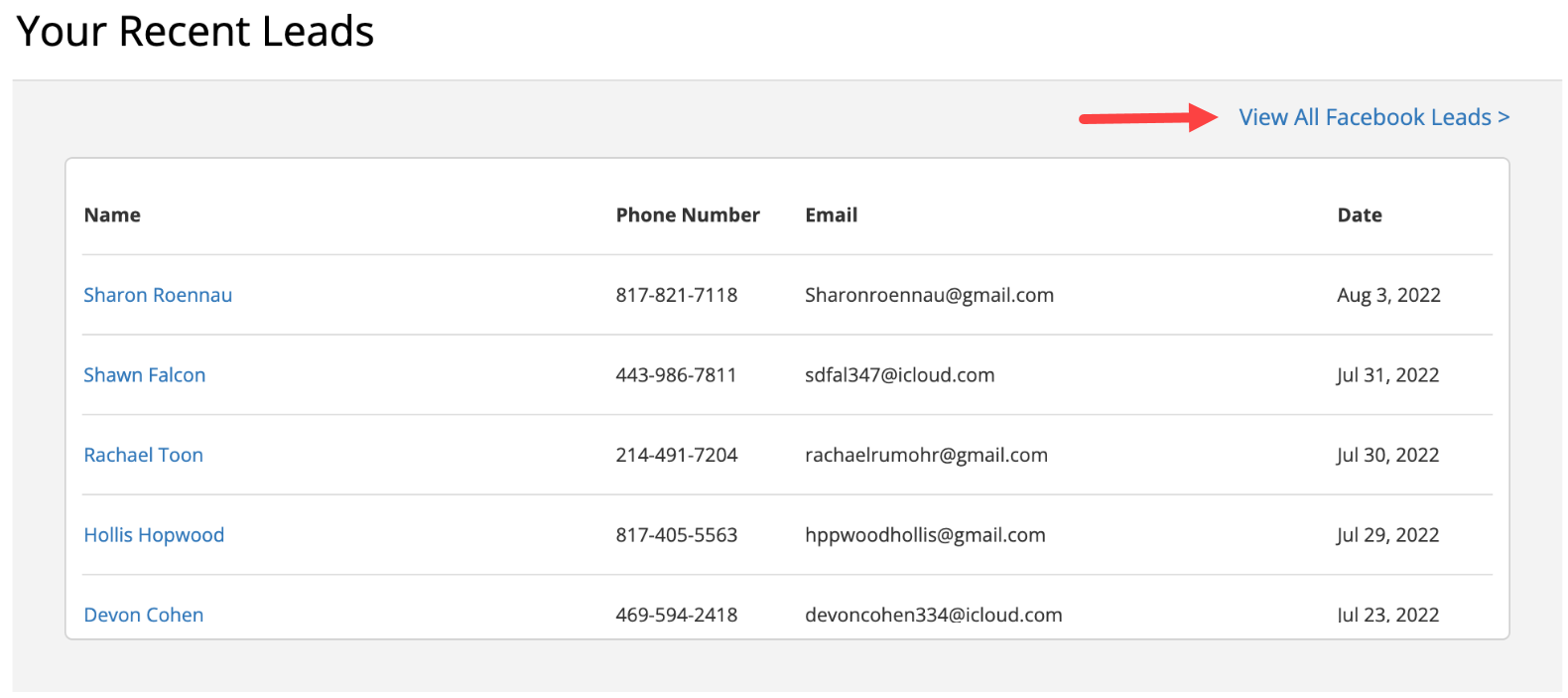 Q. What's the Best Way To Build Your Pipeline?
A. Implement a variety of lead generation strategies instead of depending on just one. Adding more lead sources ensures long-term stability for your business because it expands the size of your lead pool, which means you'll have more opportunities to turn leads into clients.
In addition to getting leads through Network Boost, did you know there are other ways Market Leader can deliver you exclusive leads each month?