The lead capture form lets you capture leads on other websites and send them directly to your Market Leader CRM, helping you to build your business and easily stay in touch with leads that you capture anywhere. Simply add one of our Lead Capture Widgets to your other websites! Please note: this form is specifically meant to be used on an outside website, not within your Market Leader site.
What is a Lead Capture Widget?
The Lead Capture Widget is a piece of JavaScript code that you insert into the HTML of a page of your outside blog/website that invites website visitors to enter their contact information to get in touch with you. They'll be able to enter their name, email address, phone number, and a message directly to you.  
Once someone has filled in and submitted the form the data will automatically import to your Market Leader CRM. The leads will be labeled as 'Lead Capture Widget' which will help you keep track of what leads have come from your outside websites.  
Using a Lead Capture Widget
To use a Lead Capture Widget, you must be able to add custom scripts to the blog or website where you would like to include this Lead Capture Form. Simply copy the script from within your Market Leader CRM directly into the HTML of any page you choose.  
Additionally, make sure to choose an area of your website that can accommodate a width of 300px and height of 500px.   Open your Market Leader CRM in another window as we walk you through the process to add this form to your outside website.  
Start by selecting Website & then Edit Site from the top menu.

Then, click on Lead Capture Widget in the menu on the left side.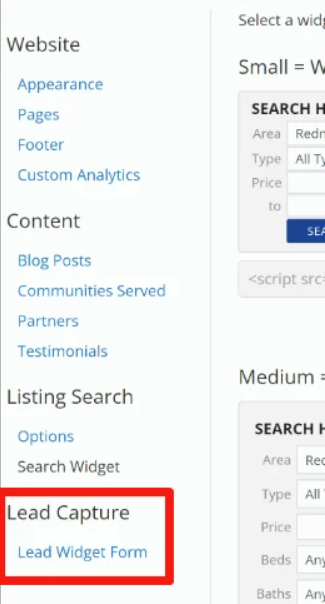 Finally, copy and paste the JavaScript beneath the form into the HTML of a page on your website: