Create a Listing Enabled Design
Listing Enabled Designs automatically pull photos and listing information from the MLS, so you can create polished, professional property marketing in a matter of minutes. You can create listing enabled designs for active MLS listings, and for your sold listings (as long as your MLS supports sold data).
Short video to learn how to create a listing enabled design
Choose a Listing Enabled Design
The listing enabled designs pull listings based on the Agent and Office MLS ID's in your account settings. You can create listing enabled marketing for your listings, your office's listings, sold listings (where applicable), or for custom properties you've added.
To get started, select Marketing Center under the Marketing menu.

From here, you'll need to decide whether you want to create a print design, or an email design (a print design cannot be emailed, and vice versa). For print, select Print Marketing in the menu on the left; for an email design, select Email & Video Marketing.
In the Search Options section, mark the check box next to Listing Enabled Only. The list will be filtered to show only listing enabled designs. For print, you'll also need to de-select the design types you don't want (e.g. for postcards, de-select everything except that type).
If your MLS supports sold data, you can create listing enabled designs for your sold listings too! You can change the header on any Just Listed design, so there's a variety of Just Sold options in your Marketing Center.
From here, you can browse designs to find the one you want to customize.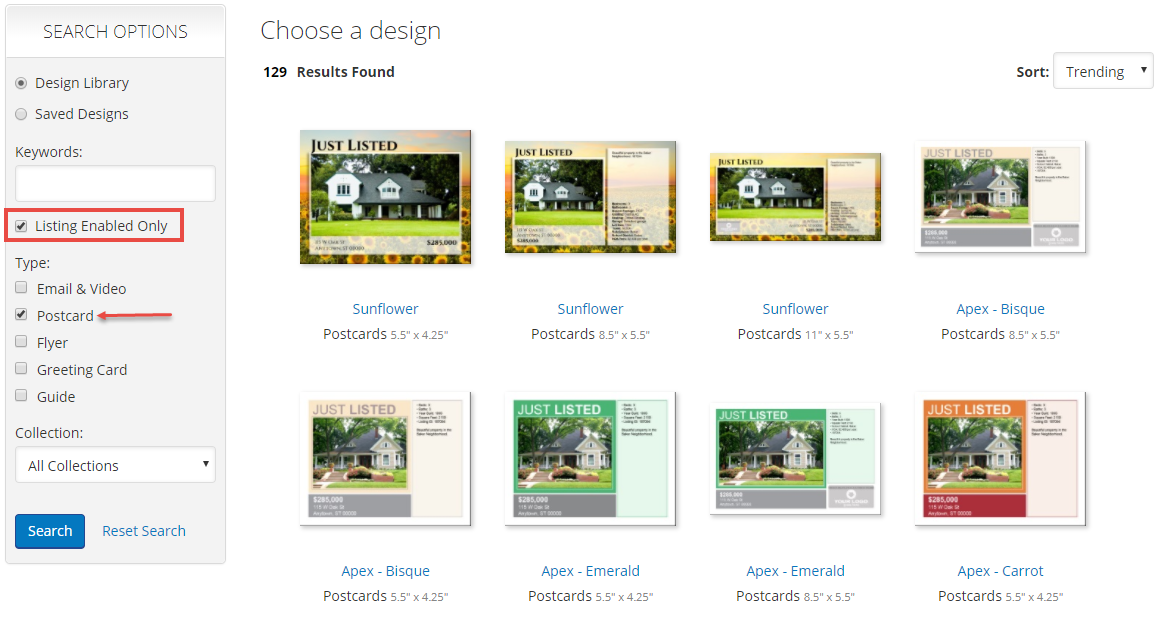 Create a Listing Enabled Design
When you find a design you want to work with, click the image for that design to get started. Here is where you can add a listing to integrate onto your design. Simply start typing the listing address or listing ID into the space provided, then select your listing from the list.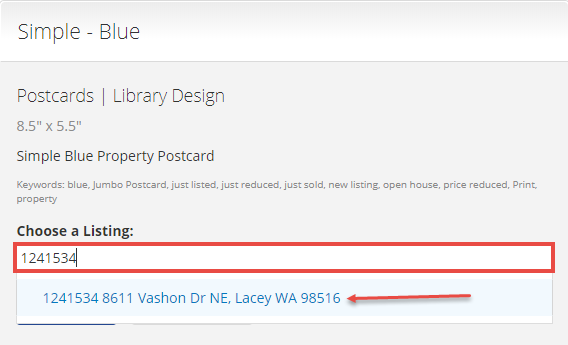 Once your listing is added, click the Personalize button to start customizing your design.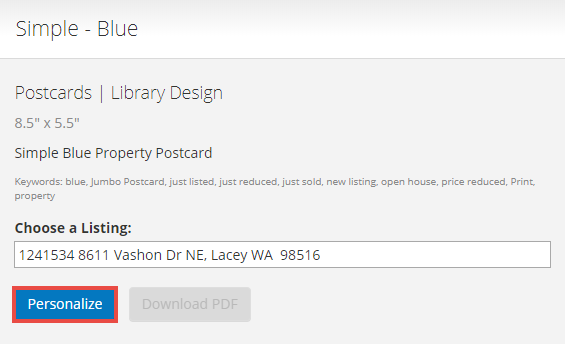 This will take you into the editor where you can edit your design. Since all of the listing photos and details come from the MLS, you won't have to make many changes. Just look over the text and make any necessary edits, or you can also replace some of the listing photos with other MLS photos.
Replacing Listing Photos
When editing your design, any photos will automatically pull from the MLS photos. If you want to change one (like if one of the photos is a bathroom), simply click on the photo you wish to change, then click the Replace icon.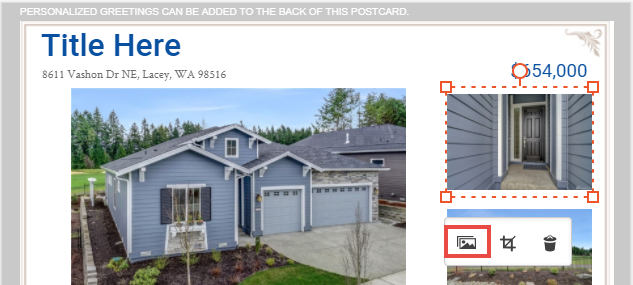 One the right, you'll see a photo library slide in. To choose another MLS photo for your design, click MLS Images in the right menu.

From here, you can browse the listing photos; to replace the original image, simply click on the new image you wish to use. You'll now see the updated image on your design. Repeat this process until you are satisfied with all of the listing images.
When you're finished updating your listing enabled design, click Save and name your new design. It's that easy!