Add an Activity to a Campaign
Updated by Nicole Huntley
Campaign Reminders
Campaign activity steps are a great way to prompt a personal touch during a campaign. Many campaigns in your system have activity steps that will trigger a reminder for each contact on the campaign, but you can add additional activity steps to any campaign.
To add an activity to a campaign, go into the campaign and expand the Review and Configure Steps section. Then, click the Add Step button.

Select activity from the menu and click Add Step again.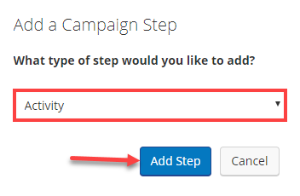 Next, edit the reminder details for the activity step you've just added:
Type: Choose the reminder type - task, meeting, or phone call. While each are nearly the same, a task reminder will not have any contacts associated, whereas phone call and meeting will have contacts tied to them.
Schedule: When you want the reminder appear. For a date campaign, choose the actual date; for an interval campaign, choose the number of days after the previous step.
Subject: Add a subject such as "2nd Day Phone Call" or "Touch Base".
Notes: Add context for your reminder. The reminder only shows what you enter in the notes, so be sure to enter the campaign name and any other important details.

When you add an activity step, it will always add it to the end of the campaign. To move it to another spot in the campaign, simply click the cross-arrow icon and drag the activity step to where you'd like it.
When you're done making changes to your campaign steps, click Save & Continue.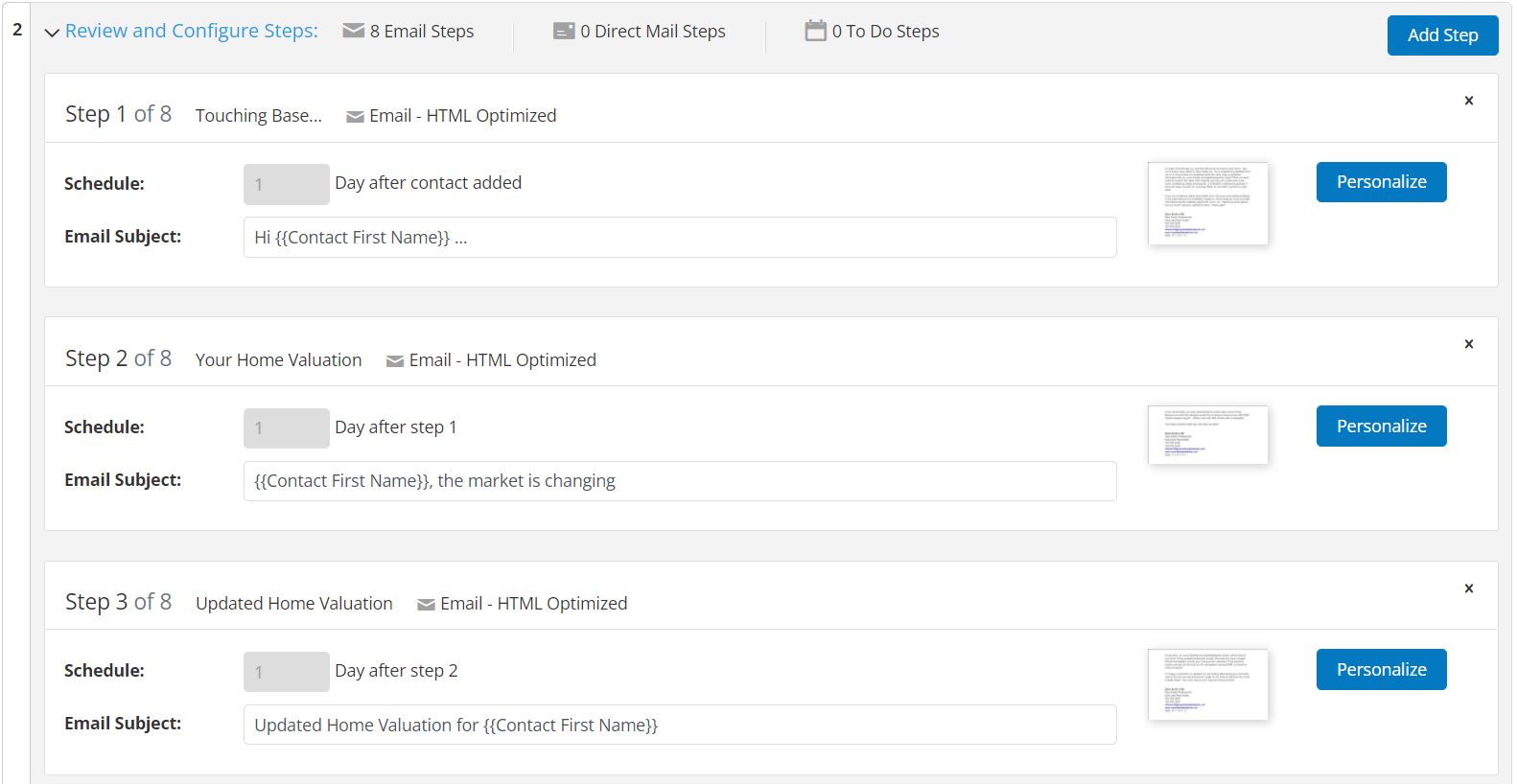 If you've made any changes to an active campaign, you'll be reminded to reactivate the campaign. Expand the Review and Activate section, check the "I have reviewed this campaign..." box, and click Save Campaign.

Good to Know
Campaign reminders will appear on your dashboard, and in the contact's record (if a contact is tied to the reminder).
When an activity step triggers a reminder, you'll get a reminder for each contact on the campaign. If you don't want multiple reminders, you can either change the reminder type to Task, or delete the activity step altogether.
To delete a step, simply click the "X" in the top right corner of the step you want to delete.