The Daily Activity Email is an automatic email sent to you with a summary of activity on your website from the previous day, and/or any reminders that are due that day. This email a great way to stay on top of new & returning contacts each day, as well as any reminders that are due that day.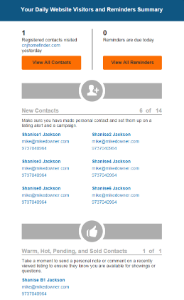 Daily Website Visitors & Reminders
This email will group your website visitors by their status in your system. You can click on a contact name to go to their contact summary page, where you can:
Check their website activity
See what properties they viewed
Send an email or listings
Add them to a group or a campaign
You can also see what reminders you have due on the day you receive this email, so you have a clear action plan for your day.
How do I Subscribe to this Email?
You are automatically subscribed to receive Your Daily Website Visitors and Reminder Summary email.
Just look for an email with the subject "Your Daily Website Visitors and Reminder Summary" in your inbox (also be sure to check your junk mail as well).
What if you don't want this email?
If you are diligent about logging into your Market Leader system to engage and research leads every day, and you don't want to receive these daily email updates, you can unsubscribe in your account settings. In your Market Leader system, use the Profile Admin Drop-down Menu in the upper right corner of the page to select My Account, then select Activity Alerts. In the Daily Alerts section, make sure the Subscribed box is unchecked.