Getting Started with Market Leader Teams for Team Members
Updated by Nicole Huntley
Welcome to Market Leader Teams. Each step in this Getting Started series connects you with the essential first steps to making the most of your new system.  
Let's get started! 
Set Up for Success 
Log In 
First, find the welcome email from your Team Leader with your login instructions. You can also view where and how to log in here. 
Take the Welcome Tour  
Get to know your way around the system by taking this quick and easy tour. This will pop up immediately upon login. It is available to view anytime by clicking the Resource Center, which is displayed as an orange question mark on the bottom right of your screen. Select Tours and How-To's, then select Welcome Tour.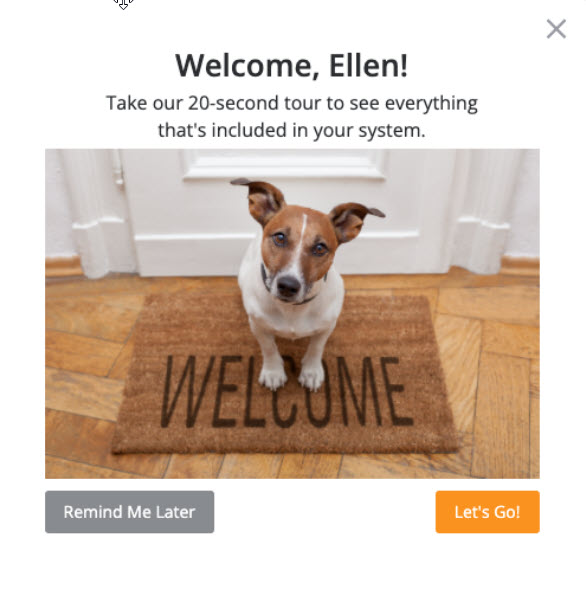 Complete Account Setup 
Complete these six easy steps to make the most out of your system. 
Review Account Settings. Contacts can't reach you if your information is not correct. Take a minute to review your account settings and update as needed. 

Additional Resources: Account Settings Details 
Review Activity Alerts. Don't miss a single lead! Choose how you want to be alerted when your contacts are engaging with you.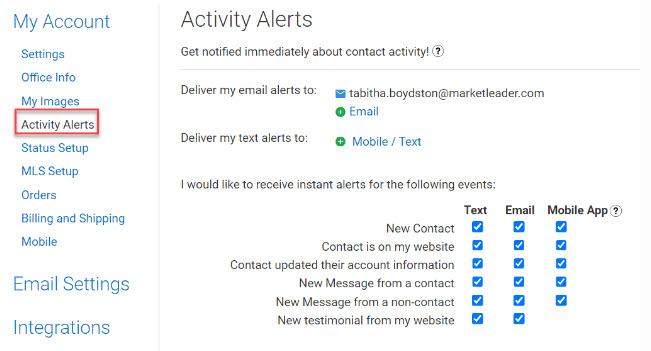 Additional Resources: Activity Alert Details 
Add MLS Agent ID. This allows you to market your listings on your marketing materials and website. 
To add your Agent MLS ID, start by clicking on the Account Drop-down Menu and selecting the My Account link from the menu. 

Next, select MLS Setup, then click the Add Agent ID link next to the MLS you have approved. If you have more than one approved MLS, you'll need to add your Agent ID for each MLS. 

Additional Resources: Add Agent MLS ID 
Upload your profile picture and logo that will appear on your website and marketing materials. 
To add your profile photo and marketing logo, select My Account from the Account Menu. Then select My Images in the left-side navigation menu. 

Use the upload button/tool to upload your professional headshot photo and your marketing logo. 
Profile Photo: This is the profile picture that will be used on your website and your marketing materials. 
Marketing Logo: Your office or agency logo that will appear on your marketing materials. 

Additional Resources: Add Your Profile Photo and Agency Logo 
Personalize email signature. Any emails sent from your Market Leader system (except emails sent from your Marketing Center) will automatically include your email signature. 
From the Account Menu in the upper right corner, select Email Settings. You'll notice that we've provided an Email Signature for you, based on your profile information; you can choose to keep this format or edit it. 
Edit your Email Signature by typing text in the space provided. The editing toolbar gives you the ability to change the text color, font, font size, include links, and more! Use the toggles below the editor to include your Profile Photo and/or Marketing Logo in your signature. Note that outside images cannot be dragged/pasted into the signature editor. This is to prevent delivery/formatting issues with popular email clients like Gmail. 

Click Save to apply the changes you've made. 
Additional Resources: Email Signature 
Personalize and Activate marketing email footer. This email footer will appear on all emails you send from your Marketing Center, including campaigns  
There are lots of choices to make when setting up your marketing email footer, this article will walk you through selecting a design, customizing, and activating your footer. 
Import or Sync Contacts  
An all-important step in the setup process – importing your contacts. Why? This is how you and your team will maintain strong relationships with your existing contacts that will result in more closed deals. Someone from our Customer Care team will reach out to help assist you with this process.   
Looking to complete the import process yourself? Learn how to do so here.  

Explore 
You're officially set up and ready to dive in!